Boxing Punches & Combinations

Boxing is a great way to increase your upper body strength. It's a fun alternative to cardio fitness and engages muscles in your arms, shoulders, abdomen, and can improve hand-eye coordination.
We have several boxing class options at Mayfair Clubs West, which are included in your membership at no extra cost:
Mondays 6:15am and 7:30pm
Wednesdays 9:30am
Fridays 6:15am
Saturdays 11:30am
This class runs for 90 minutes, with the first hour focused on conditioning and boxing and the last 30 minutes open for students to work on specific boxing skills.
I'd also like to share some boxing workouts that I recommend for improving your skills.
STAND / GUARD
Start by standing with your legs apart about the width of your hips.
As a right handed boxer, place your right leg back equally to the width of your legs apart creating a stager position.*
Bend both knees slightly, placing about 60% of your weight on your front leg and 40% on the back leg.
Be sure that your heel on the leg that is at the back of your stand/guard is always OFF THE FLOOR to allow for pivoting.
At this point, you are still facing SQUARE forwards. Position/turn yourself slightly on an angle, as if you were looking at the right corner of the room. Your torso should match the position of your legs.
Your arms should be softly bent on a 45% angle and resting on either side of your torso slightly towards the front of your rib cage.
Imagine bungee cords or elastic bands attached from your wrist to your shoulder and from your elbow to the lower part of your rib cage on both arms, these will help you bring your arms to your proper guard after every punch you throw.
PIVOTING with your back leg is what is going to provide you with power, speed and the right form, which is the foundation to all your punches and movement in boxing.*LEFT handed boxers reverse the positioning on the second step.
PUNCHES
There are four punches which are considered the basics for boxing.
JAB – Hand on the front of your guard/stand moves forward, as if you were signalling someone to stop, your hips should rotate slightly with this punch. This is used more as a set up punch.
STRAIGHT –  Hand on the back of your guard/stand moves forward, as if you were trying to push someone away.  Your hips should moderately rotate with this punch. This is used more as a power punch.
HOOKS –  They can be done with either hand – to the head or the body area. Imagine putting a shield in front of you to protect yourself, elbows should be on a 90 degree angle and your hips should vigorously rotate with these punches. These are used more as power punches.
UPPERCUTS –  They can be done with either arm. From your guard/stand, slightly drop/bend your knees keeping both hands/arms on guard.  As you come up, slide one hand/arm through the centre of your bag or target, your hips should moderately rotate with these punches. These are used more as power punches.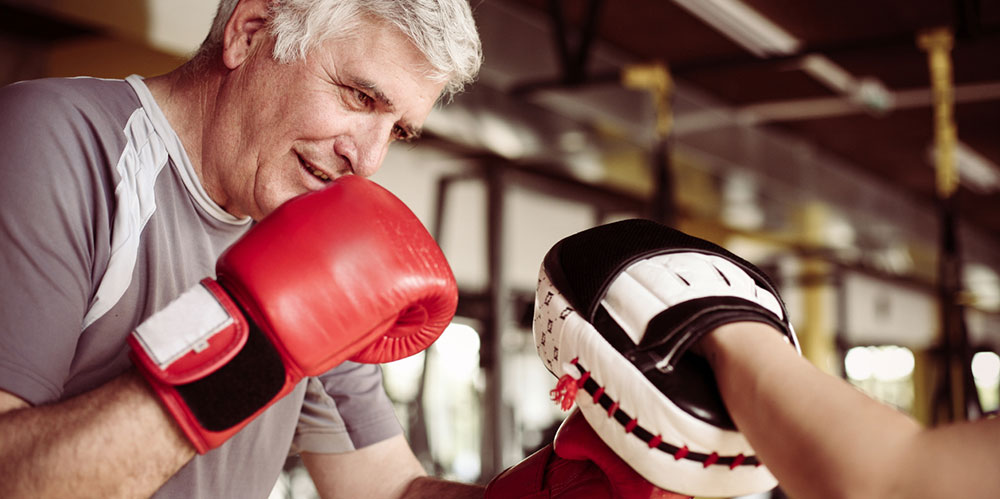 COMBINATIONS
Combinations usually consist of 2-6 punches. The speed and power of the punches will vary according to the combination or the way in which the combination is used.
The following are just startup examples of combinations; the best approach at the beginner stage is to keep your combinations simple.
Combination 1
STRAIGHT
HOOK TO THE HEAD
JAB
UPPERCUT
HOOK TO THE BODY
Combination 2
HOOK TO THE HEAD
UPPERCUT
STRAIGHT
HOOK TO THE BODY
JAB (mostly to separate yourself from the bag)
Combination 3
HOOK TO THE HEAD
HOOK TO THE BODY
HOOK/STRAIGHT
UPPERCUT
JAB
Combination 4
HOOK TO THE HEAD
HOOK TO THE BODY
UPPERCUT/UPPERCUT
STRAIGHT
JAB
As you progress, you should be able to start doubling up some of the punches, such as "double jab," or increasing the number of punches in a combination. Don't forget to breathe with every punch and don't increase the number of punches per combination. Keep it to a maximum of six punches.
Antonio Barrios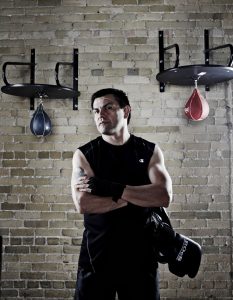 Over the past decade, Antonio's work experience has been directed towards treating and preventing sports injuries. In addition to personal training, Antonio loves to teach boxing and boot camp classes. He has over 18 years of experience as a boxing instructor and holds a black belt in martial arts. Antonio offers sports conditioning for all levels, ranging from weekend warriors to elite athletes. He believes that each client has a unique and specific goal and is determined to help clients improve their fitness level, including their core strength, endurance, power, agility, balance and speed. Feel free to find Antonio on the gym floor and ask him questions!