Domenic Lunardo has been a Mayfair Clubs member since 1998, that's 23 years of membership at Mayfair West!
Recently, Domenic, at 61 years of age, went through a major health transformation that was inspired partly by his circumstances during COVID19 lockdowns. Domenic had more time on his hands, so he decided to get his Mayfair Clubs Athletic Analysis done to see what the status of his overall health was. He reached out to Kerry Lloyd, Fitness Manager at Mayfair West.
Kerry connected Domenic with Personal Trainer, Carlton Brown. Carlton has been on the Mayfair West fitness team for close to 20 years and is a member favourite when it comes to personal fitness coaching. Working with Carlton, Domenic was able to get out of a TV watching and binge eating rut and over the last two years, went on a journey to successfully lose a total of 85 pounds and reach his fitness goal of 15-18% body fat.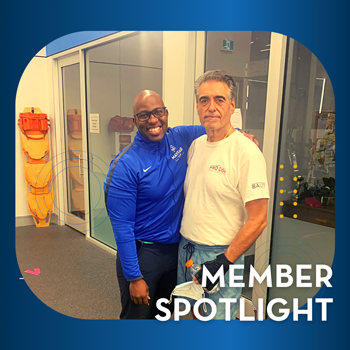 Team Mayfair was there every step of the way – via email, virtual classes – I was supported and encouraged throughout my journey to renewed health and vitality.

I am 61 years of age and currently weigh 195 lbs. Carlton has taught me that it is not about the number on the scale, but how you look and feel, which was liberating.

I want to thank the cleaning staff for their diligence in sanitizing and making me feel safe every time I came in for my sessions. As well as Vincenza at the front desk, who always welcomes me by name – Mayfair feels like that show Cheers!

I am currently living my childhood dream to be a better tennis player. I am taking lessons with Melissa Cutler – and that's been game changing. I even got rid of my old shoes and tennis racquet and bought myself a new, stylish, flashy green tennis outfit.

Like my old friend Harvey Brooker used to say… "if you could have done it alone – you would have done it already."

Keep up the great work and I look forward to a better quality of life as I reach my senior years with the help of Mayfair and its staff.

Domenic Lunardo, September 2021
Domenic continues to work out with Carlton once per week and does two sessions with Tennis Pro, Melissa Cutler to maintain his weight loss.
If you'd like to learn more about Personal Training at Mayfair Clubs, contact your Fitness Manager.