Expert Corner: Antonio Barrios and his Speedy Road to Recovery
Who is Antonio?
Antonio is a personal trainer and boxing instructor at Mayfair West. Originally from Mexico, he learned how to box with his cousins from his Grandfather. He also practiced Martial Arts as a teenager and was an avid mountain biker when he lived in Western Canada. Over the past twelve years, his work experience has been directed towards both treating and preventing sports injuries, and conditioning, for clients who range from weekend warriors to Iron Man triathletes, Olympic and professional athletes.
How Did He Get Injured?
Antonio has always been very active. From his training in boxing and martial arts, and his mountain biking in Vancouver, he had a lot of wear and tear on his body. He also had a full time job that required daily physical work which contributed to stress on his hip joints. Antonio then had a fall that aggravated his condition and was eventually diagnosed with Osteoarthritis in his hip. Over time, his mobility became worse and his pain started to affect his quality of life. He knew he had to do something.
What Did He Have Done?
On July 24th of last year, Antonio had right hip surgery called resurfacing. The surgery was a success and Antonio happily left the hospital the next day. A week later, he was back at work training clients and teaching classes to the surprise of a few people… some of whom called him crazy!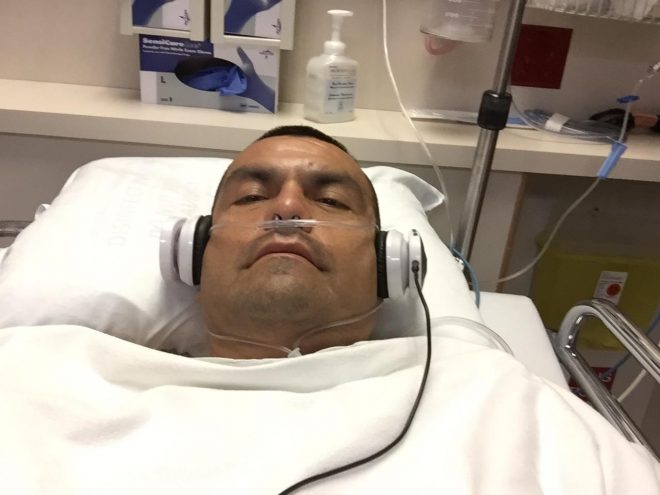 Watch His Story
Watch his story to find out how he recovered so quickly and learn about some of his top tips!
Top Tips for Speedy Recovery
We've also listed his top tips to a speedy recovery here:
BEFORE YOUR SURGERY
Strengthen your muscles in the affected area
Try to eat healthy and lose some weight if possible
Get lots of rest
AFTER YOUR SURGERY
Willingness. You have to be really driven to get back to your active lifestyle.
Listen to your body. Your body will tell you when you can push yourself and when you should take it easy.
Network with your community. Talk to friends, your instructors, personal trainers, your doctor and therapists – don't be afraid to ask for help and use the knowledge base of the people around you.
Reduce inflammation. Use cold compresses and hydrotherapy whenever you can.