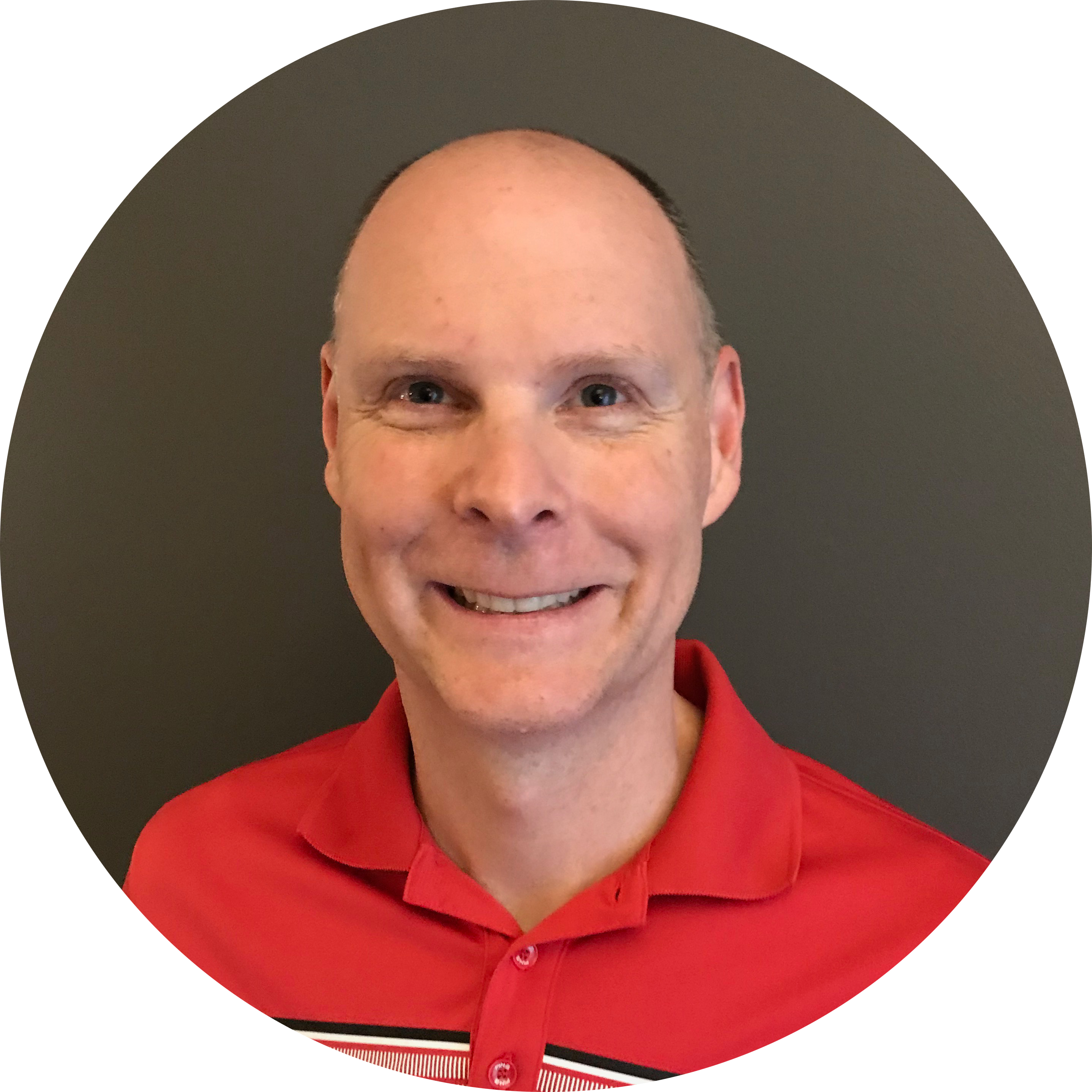 Meet Jeff
Jeff MacCheyne is an Honours Graduate from the University of Toronto; he is also accredited from the Canadian Fitness Professionals Association as a Certified Personal Trainer. As a Certified Personal Trainer for over 18 years, Jeff's successfully worked with a wide variety of Mayfair Clubs members with their health and fitness goals, with specific experience in helping active, older adults (35+) overcome postural and movement limitations. Jeff has a strong ability to liaise with health care professionals complimenting treatment plans to ensure strong results.
Read the latest article from Jeff talking about the importance of diaphragmatic breathing to restore good posture and reduce body aches!
What is Diaphragmatic Breathing?
Diaphragmatic breathing, or deep breathing, is breathing that is done by contracting the diaphragm, a muscle located horizontally between the thoracic cavity and abdominal cavity. During this type of breathing, air enters the lungs, the chest does not rise and the belly expands.
"If breathing is not normalized, no other movement pattern can be." Karl Lewit, renowned Czech neurologist.
The way that you breathe can have implications on posture, movement, the ability to achieve adequate core stability, and the state of your nervous system. Obviously, most of us are breathing correctly enough to sustain our lives. But are you breathing optimally for the daily demands that you are encountering? And in particular, how are you breathing during your physical activities?
Normal Breathing Patterns
A normal breathing pattern is classified as diaphragmatic or abdominal breathing. But the word abdominal is not quite accurate as the breath should be '360 degrees' and should inflate the abdominal cavity both laterally and posteriorly. Why does this matter? The abdominal walls should all expand equally on inhalation; only in this way can the pressure stabilize all the core structures properly.
How to Assess and Correct
Often the best way to assess and even correct breathing patterns is to do it in low level postures. Commonly, this means that a person is in a relaxed, supine (lying on back) position. With one hand on the chest, the other just below the belly button, you should be able to direct airflow to the belly first (and the sides and low back) before the chest begins to rise. If the chest rises first, that is a non-optimal breathing pattern called paradoxical breathing.
Paradoxical Breathing and Stress
Paradoxical breathing means that you are not using your diaphragm properly as it should be the primary muscle of inhalation. You are substituting chest and neck musculature to help expand your upper rib cage. Unfortunately, this sub-conscious, non-optimal breathing strategy can often create tension in those areas and often leads to neck and shoulder pain and dysfunction. It is common in high stress situations (jobs).
How To Practice Diaphragmatic Breathing
When practicing diaphragmatic breathing in supine, it is sometimes helpful to draw the knees in so the feet are flat on the floor or even lift the feet so they are supported on a chair in a 90/90 knees and hips position. This helps to facilitate better alignment of the pelvic floor and the diaphragm. This alignment of the pelvic floor and diaphragm is extremely important for proper pressurization of the abdominal cavity and thus stabilization of the core.
Below is a diagram of various common postures. The one on the left is ideal posture where the diaphragm is in alignment with the pelvis. When inhaling in this posture, the pelvic floor provides a directly opposing force which directs pressure outward equally in all directions and ideally creating a 360 degree stabilizing force.
The second picture is demonstrating what we call 'open scissors' posture; the third picture is forward chest; and the last picture is a chest back, slumped posture. In each of these cases the pressure generated by an inhalation will not be equally directed within the abdominal cavity.
Often 'the leak' will be pushed toward the front and can result in a compromised lumbar (low back) position during activity.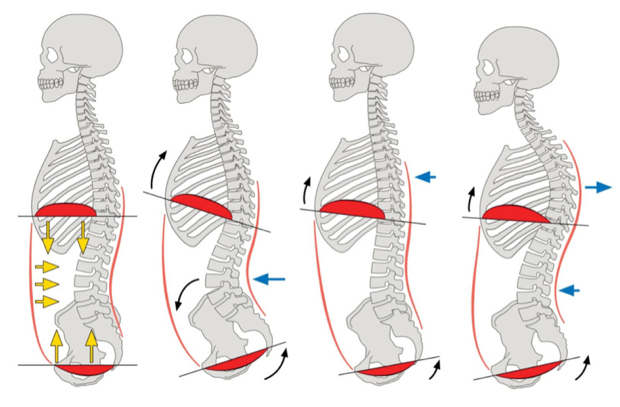 What Does it look like in the Gym?
I often see people in these non-optimal postures resort to a non-optimal core stabilization strategy. Frequently, these people will use an abdominal gripping strategy. You will see a big inhale, often into the chest, followed by a deliberate, muscular tightening of the rectus abdominus muscles. This does provide some measure of support, particularly if you are lying on your back doing pressing movements. But the problem is that it is a one-dimensional strategy. Pressures into your sides and your back are unregulated with this strategy and movement of the spine can occur which can lead to injury.
I, myself, used to use this abdominal gripping strategy while dead lifting. I kept wondering why I was getting injured because I felt like I was definitely activating my abdominals to provide core stability. The missing link was that I was not using my obliques, low back muscles, and also my diaphragm as a stabilizer (it has that function too!) to counter the pressures in my abdominal cavity.
Tips to Practice
So, practice your diaphragmatic breathing in supine first; then try it in quadruped (hands and knees), sitting, and standing positions. Learn to direct the airflow from the inhalation in 360 degrees. Learn how to use all the core muscles (anterior, lateral, posterior) to oppose the pressures being created by a diaphragmatic inhale…and voila, a functional core brace!
You can also use breathing to alter any of those non-optimal postures; thus start aligning your diaphragm and ribcage to your pelvic floor and pelvis. How? Focus on a full, long, and strong exhale. What you will notice is that your abdominal muscles will be responsible for expelling that last bit of air from your lungs; it does this largely by pulling your ribcage down towards your pelvis. And dropping the ribcage down will align the diaphragm and pelvic floor. Start practicing these exhales in a supine position first as the descent of the ribcage will be much more obvious.
Good luck with practicing your diaphragmatic breathing. I hope it helps to restore good posture, reduce any pain, mitigate any risk of injury, and relax your nervous system after a stressful day.
All the best,
Jeff MacCheyne
Mayfair Lakeshore Master Trainer
Further Reading
For further information about breathing check out the following resources:
Anatomy of Breathing – by Blandine Calais-Germain
Web article: Breathing IS NOT Bracing – by Chris Duffin, Oct 08, 2016
A Clinical Guide to the Assessment and Treatment of Breathing Pattern Disorders in the Physically Active: Part 1, International Journal of Sports Physical Therapy – by E. Chapman, J. Hansen-Honeycutt, and J. May, Oct. 2016