Expert Corner: Ken Crosina on Tennis
Meet Ken Crosina
Meet our Ken Crosina! Ken has been working at Mayfair Clubs for seven years; with the last four years in his role as Director of Tennis.  Prior to joining the Mayfair team, Ken was the Head Tennis Professional for 12 years at Campus Tennis Centre in Oshawa.
About Ken
Ken grew up playing tennis in Toronto and was coached at Mayfair Parkway by Gus Villanueva as a junior. In two years, Gus took Ken's game to the next level as Ken finished 5th at the National Championships in back to back years. With Mayfair hosting so many high level tournaments, it was the perfect place to train for Ken and many other top ranked National Juniors.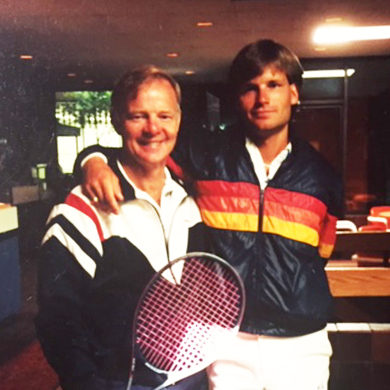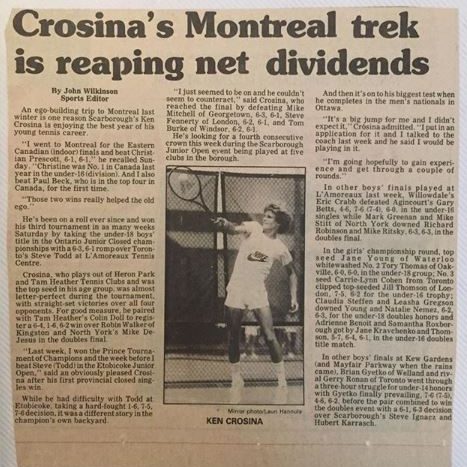 (Left) Ken and his Dad, Chris, playing in a Father/Son Tournament at Mayfair West in the mid eighties.
For the past 29 years, Ken has been heavily involved with the Rogers Cup in Toronto; and for the past four years he has been the Master of Ceremonies on Stadium Court. Furthermore, Ken is also the MC for the NHLPA Smashfest charity event. In eight years, Ken has helped them raise over 1 million dollars for concussion and rare cancer research.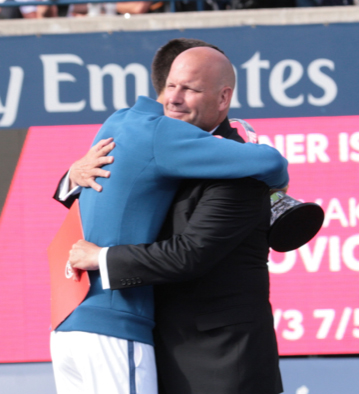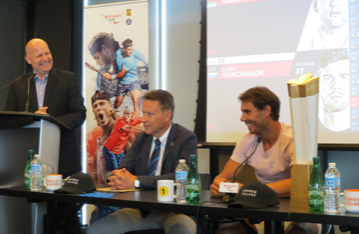 (Left) Novak Djokovic hugging Ken Crosina on Stadium court at the Rogers Cup during the trophy presentation.
(Right) Ken Crosina with Rafael Nadal at the Rogers Cup Official Draw ceremony.
Ken Crosina on Tennis
Check out our interview below Ken Crosina. In this video, we asked Ken to lend us his expertise in playing tennis doubles, and talk about his experience as the Master of Ceremonies at the Rogers Cup.