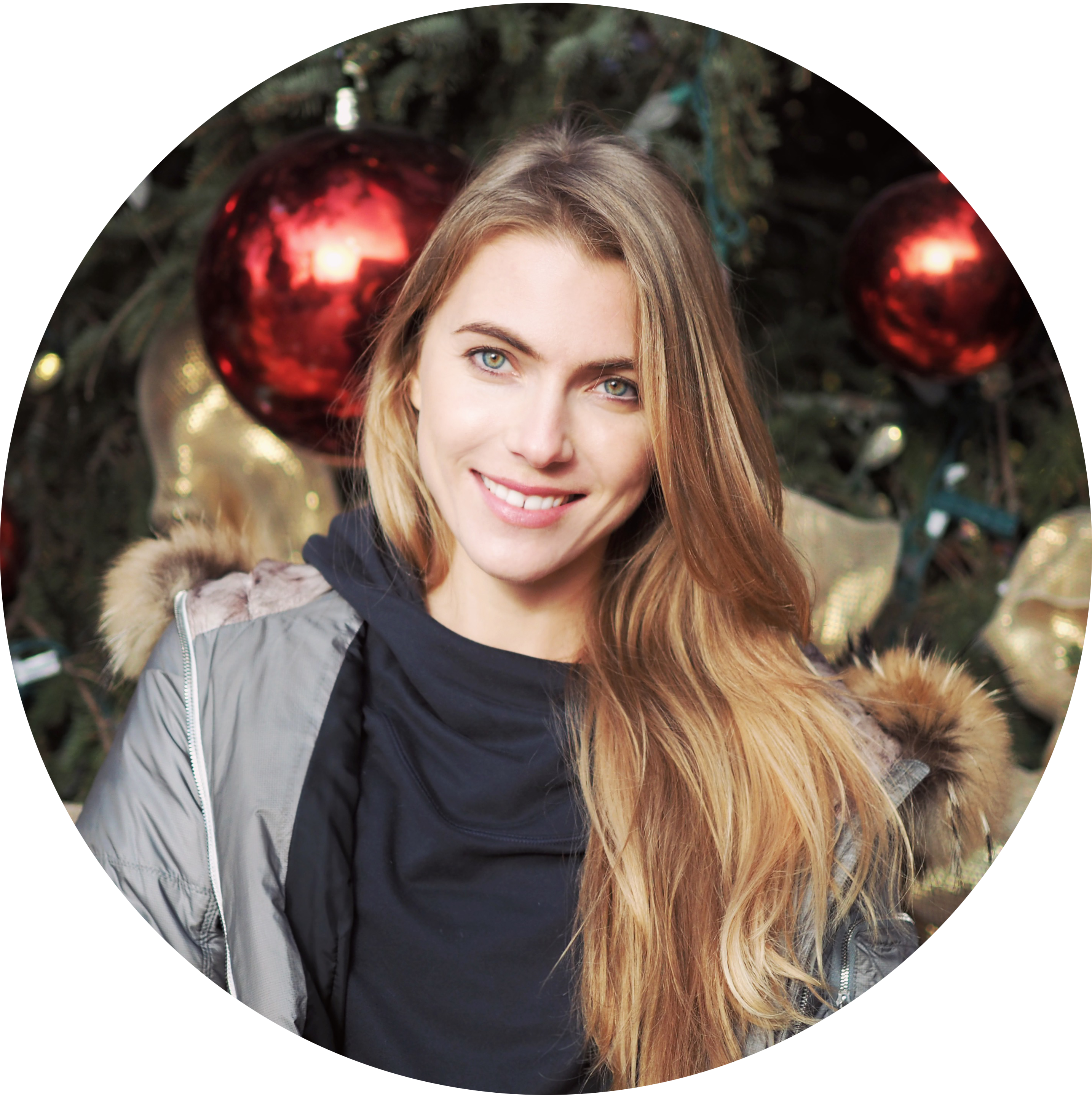 Meet Olessia
Olessia Kouzina is the Flight Yoga Instructor at Mayfair Clubs Lakeshore. With a background in array of sports and dance, she was drawn to the practice of yoga as an adult and has been exploring the discipline of asana practice and the philosophy of yoga for over 15 years. As an accomplished Yoga Instructor and certified Fascial Stretch therapist, Olessia completed her Yoga teacher training at Downward Dog Yoga Centre in Toronto in 2012 and a Pilates training a year earlier. Olessia also got her Aerial Yoga certification upon an invitation to become a founding instructor and program developer at one of Toronto's Wellness studios, which sparked her passion in Aerial Yoga.

Olessia on Flight Yoga
What is Flight Yoga?
Flight Yoga or more traditionally known as Aerial Yoga is a relatively new type of movement that incorporates balancing, stretching and strengthening exercises with the use of a hammock (or silk). Additionally, classes may have a specific theme – core strength, flexibility, etc., or include a healthy mix of everything flowing from one pose to another.
What are the benefits and why should people try flight yoga?
Without a doubt, as with any type of movement, the benefits are endless. Balance, flexibility and core strength go tightly hand in hand in Flight Yoga classes. With more freedom to move, you can go deeper into stretches; by having to pull yourself up and lower yourself down you will gain upper body and core strength. As you transition from pose to pose, you will learn to activate stabilizer muscles improving core strength further and mastering balance.
You can also expect the following improvements, such as
Elevated mood.

It is fun to swing around and hang upside down.

Improved digestion

Assisted movements and stretches help boost the digestive tract and help with issues like indigestion and constipation.

Lymphatic drainage

Manipulating the stretchy fabric during movements (like a massage) helps drain the lymphatic system to improve lymph flow.

Anti-ageing benefits

Flipping upside down improves circulatory system increasing blood flow and sending nutrients and oxygen to skin and hair follicles, giving your skin a healthy glow and reducing fine lines and wrinkles (acne too).

Back health

Inversions help to decompress vertebrae by creating traction in your spine, which make the spine more flexible and invigorated improving back pain and delaying ageing. After all, "you're only as young, as your spine is flexible" (Joseph Pilates).

Stress release

Hanging in a hammock (not just upside down) releases and relaxes muscles, melting away tension from shoulders, neck, back, arms and legs;

Brain function and body awareness

Up until the moment when you're relaxing in Savasana, your brain is working hard, trying to concentrate to make sure "right" is not "left" and vice versa. (sounds crazy, I know, but try reaching your right hand towards your left toes when you're hanging upside down – it's a completely different perspective). Here's a little trick you can do to test yourself: walk in a straight line with eyes closed before you start Flight Yoga, and then again after 5-10 classes. Coordination improvement guaranteed!
Is it good for people of all fitness levels? What if I am a beginner?
All levels are welcome. If you're trying a class for the first time, don't be discouraged by people who have been coming regularly and for some time. Getting back to basics is always beneficial for everyone. If a beginner requires extra one-on-one instruction, more advanced students get time to play around and perfect their existing skills. Working around injuries and limitations is also possible. As an example, there are students who are not able to hold regular plank due to wrist issues. Having their bodies supported by a hammock allows them to put minimal weight into their hands and hold a "floating plank" (variation of plank with lower body inside the hammock). Another thing to keep in mind when practicing in the hammock is how much quicker you become aware of your body and the way it moves, and advance in your practice. Consistency is of course key!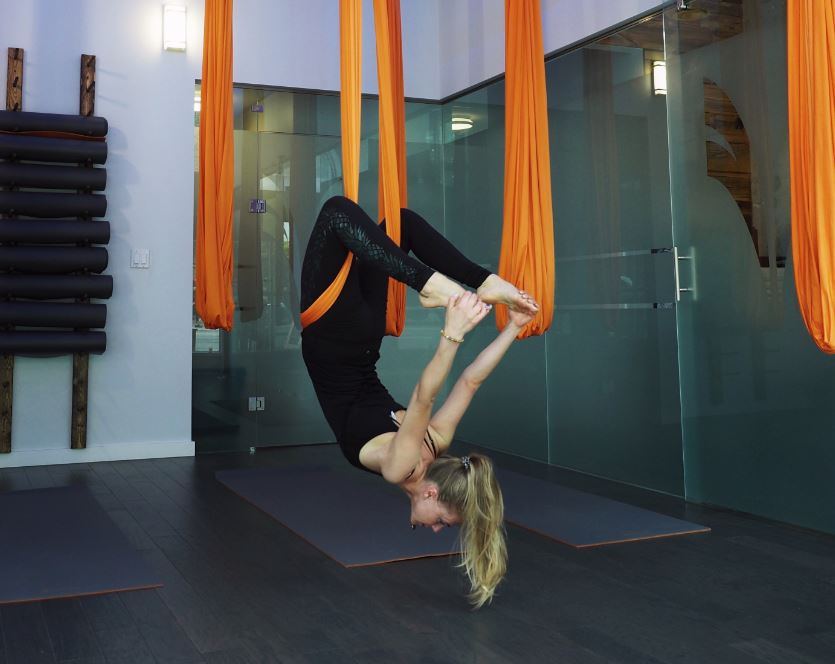 Is it safe?
Yes, it is. Flight yoga is safe. As with any fitness modality be sure to follow instructions especially on your first try and listen to your body. If you're uncomfortable or not sure about
what you're doing (and this goes beyond flight yoga) pause and ask for assistance. That said, there are some conditions that are worth getting a green light from your physician before you
come to class. They include but not limited to:
High/Low blood pressure
Cardiovascular diseases
Pregnancy
Eye diseases/recent eye surgery
Vertigo
Any condition that blocks the nasal passages like cold or flu
What is a typical session like?
We start with a warm up and a few easy balances, as we slowly begin to tie the movement with our breath. Throughout the class we move in and out of the hammock doing various yoga poses (most of them are aerial adaptations of traditional poses). Depending on the direction of the class we will either move into vigorous core exercises or suspended stretches. The class is wrapped up with Savasana. We fully cocoon ourselves inside the fabric, and go through a few minutes of relaxation while suspended in the air. You can choose whether you want to hang still or sway gently forward and back.
I build classes around my students, taking into account any limitations, and always focusing on correct breathing techniques, alignment and setting proper foundation for any future practice or other fitness modality. I also encourage everyone to come in open minded and have as much fun as possible. Now you know what to expect from my classes – lots of flying, lots of stretching, lots of core ☺ Namaste!
Check out our interview below with Olessia as she demonstrates some beginner-friendly Flight Yoga poses!
How do I sign up?
For our Group Fitness schedule, visit http://mayfairclubs.com for details.