The All-Important Tennis Warm-Up
Guest Authored by Michael Emmett, Tennis Professional, Mayfair Lakeshore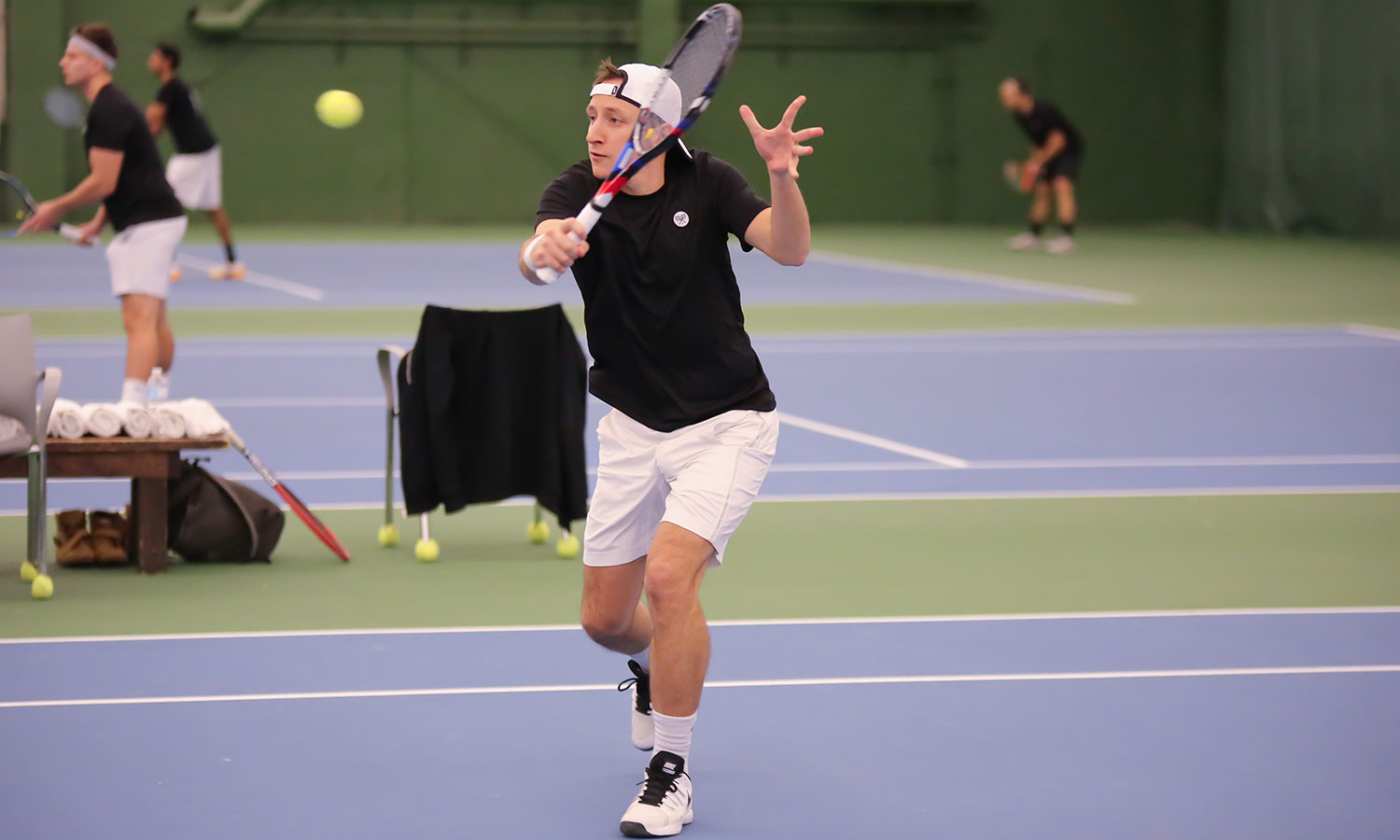 The warm up is the most neglected component of a tennis match and it's unfortunate because it really should be treated with special care. The warm up is a critical element of a match, especially if you're a slow starter. Often times, the warm up is the only time you have on the court to prepare yourself for the match ahead. Use this time wisely, it could be the defining moment in your ultimate success or failure.
The Right Way to Warm Up
There is a right way and a wrong way to conduct a tennis warm up.  The warm up is not a practice session.  Too many people treat the warm up as an opportunity to work on their game.  If there is a shot that isn't working, I often see that shot being practiced over and over in this five-minute span, leaving no time for the most important elements of the warm up. This can be extremely frustrating to the opponent and more importantly, you!
The warm up is not a time to fix faulty technique. Technical issues are best worked on in a coach/student setting with tons of time and many repetitions to correct the problem.  Experimentation is a key learning tool and this can't be done in a warm up – there is no time! Remember, the warm up is always supposed to only be five or six minutes.  Warming up properly is a lost art – other than the pros, very few have the know-how or the knowledge to do this correctly and as a result it is affecting so many club matches in the GTA.
What Are the Stages of a Proper Warmup?
It makes no difference if you are playing a singles or a doubles match.  The segments of the warm up are the same – it just depends on whether you are sharing the court (like in a doubles match) or you have the entire court to yourself.
Stage One (30 seconds) – Activate Your Brain
First, if necessary, is short court – both players are inside the service line hitting at 25% – this is the stage that usually lasts far too long.  In casual tennis (not a real match). This stage should be 30 seconds.  Three forehands & three backhands and then move to stage two.
Another option, for this close proximity to the net warmup, is both players volley the ball with soft hands focusing on maintaining the rally – also called volley/volley.  This is great to get the eyes seeing the ball and activate the brain for the more advanced hitting that will come later.
Stage Two (15 seconds) – Ground Strokes
This stage should also be very quick.  Both players are back at the baseline hitting ground strokes – this is the stage that always lasts the longest.  Most spend far too much time in this area.  Three or four forehands and backhands each and move on to stage three.  At this point of the warm up, we should be 90 seconds in, and ready for the one-up-one-back stage.
Stage Three & Four (60-70 seconds) – Overhead Warm up
These stages are conducted with one player at the net and one player at the baseline.  The net person should hit a few volleys (some from each side).  Always remember, as the volleyer, stand a little farther back to help ensure a cooperative warmup.  Most people stand too close to the net when receiving volleys, resulting in the rallies being short and disjointed because the volleyer is hitting down, which ruins the rhythm of the rally.  Standing a little farther back helps the volleyer hit straighter and keep a better trajectory on the ball – a consistent height over the net is conducive to longer rallies and a more fluid warm up.
Stage four is receiving lobs so that you can warm up your overhead.  Again, most club players stand too far back to receive lobs and this makes it difficult for the lobber to give you a decent ball to strike as an overhead.  So, set the trend (do as the pros do) and stand in closer to make it easier for your opponent to give you that perfect lob.  Remember, when hitting overheads, you want to practice moving backward (not forward) – this is the direction you will be hitting most of your overheads from, in live tennis.  Do the opposite of what you currently do – stand near the service line to receive volleys and stand tight to the net to receive lobs.  This will show that you're an experienced, knowledgeable and confident tennis player.
Stage Five & Six (60-70 seconds) – Starting to Sweat
Stage five & six are identical to stages three & four except the roles are reversed.  Now your opponent comes to the net to receive volleys and overheads.  This is where you can get a feel of his/her technique.  What side is stronger and what side is weaker?  Do they look comfortable and confident at the net?  Most don't!  Can they handle your big topspin groundstrokes?  Do they hate your underspin backhand slider?  All things you can quickly decipher as the warmup progresses.  At this point, we should be about three minutes into the warmup and feeling limber and loose.  One of the main objectives in the warmup is getting your heart rate slightly elevated as you get nearer to the start of the match – you can accomplish this by running to most balls –  simulating match play.   I've always felt when I started to sweat I'm basically ready to go – primed to go to 'battle.'
Stage Seven & Eight (3 minutes) – Serve and Return
These vital final stages involve the serve and the return of serve.  This is the most important area of the warmup and these two stages should last the longest and be the most specific. Make sure you practice your serve to both sides (Deuce & Add court) and hit both first serves and second serves. If you have the ability to create multiple service motions (flat serve, slice serve, kick serve) then find time to practice all three.  The serve is always recognized as the most important shot in the game, therefore, it requires the most time to ensure it is ready to go when all players are ready to compete.  Serve softly to begin and gradually build up to a full-on first serve.  Try to hit at least 12 warmup serves in total – this should ensure your arm is ready to deliver a big first serve when the moment arrives for the first point.
And don't forget to hit some return of serves.  Practice your split-step as your opponent delivers his/her serve and find out if you can handle the pace and spins of the serve coming your way.  Remember, the return of serve is not a groundstroke – it's a return of serve that has its own specific technique.  That's why it's imperative you focus on hitting a few returns – it's a great way to scare your opponent (show them you can handle their best serves with ease).  In the match, if this is the case, they will likely over-hit their serve and register a very low first serve percentage.  The serve & return portion of the warmup should last about three minutes if you stretch the entire warmup out to six minutes.
And please don't be one of the many who says "first in (sometimes first in both sides)" prior to your first service game of the first set.  If you've taken the time to sufficiently warm up your serve, you don't need the safeguard of 'first in.'  This is a terrible habit that does not bode well for serious match play.
In Summary
Stages one through six should last about three minutes and stages seven & eight (the serve and return part of the warmup) should last about three minutes. If tennis players could keep their warm ups this scripted and this timely, everybody would have a lot more fun playing the game they love.
Many of you reading this article compete on the Mayfair Clubs tennis ladder.  Ladder matches are extremely short (first to eight games) and getting off to a good start is imperative if you're looking for success.  Adopt my strategies for the warmup and I bet, in your next ladder match, you'll get off to a rocking start and set the tone for the rest of the hour!
A good beginning usually means a strong finish – so treat the warm-up with importance and respect and you'll see a major difference in your performance as you continue to strive for excellence.
If you'd like to learn more, contact lakeshoretennis@mayfairclubs.com.