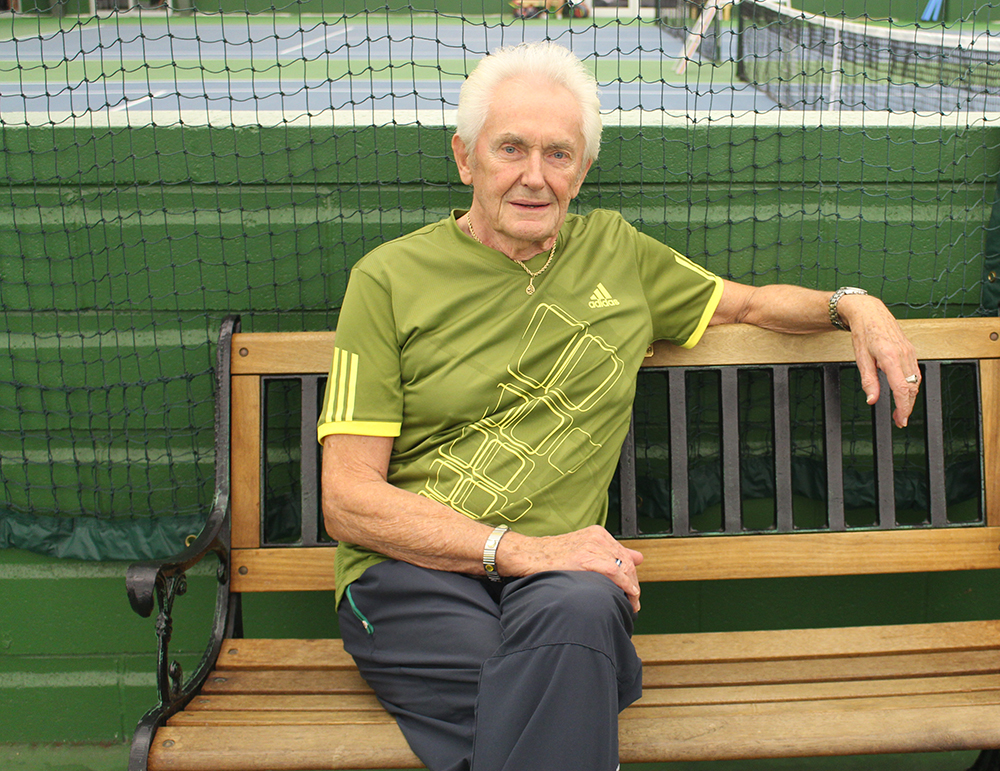 Our Mayfair Member Spotlight for the month of December is 80 years young Henry Buss! Henry has been a member at Mayfair West for 35 years and he is a huge fan of tennis!
Why Henry?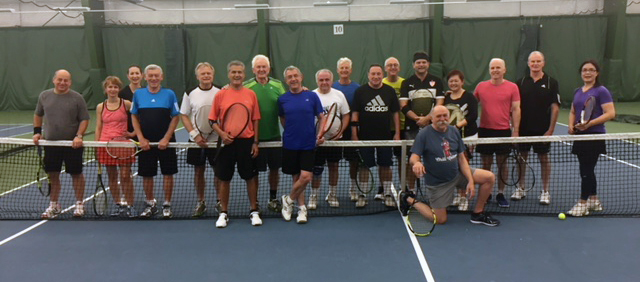 Henry has been instrumental in developing an early morning tennis community at Mayfair West – what Henry calls – the Early Bird program – and he has run it successfully for over 35 years. Three times a week (Tuesday/Wednesday/Friday) – Henry gets a group together at 7am on the courts at Mayfair West. A dozen people come out weekly and they play singles and doubles. All levels are welcome and the group has a blast!

What Does Henry Do at Mayfair?
Three times a week, Henry gets to Mayfair West at 6:15am. He starts his day in the gym doing reps on 25 machines. He completes two rounds of 13 reps, using machines that are clustered closely together for efficiency for a total of 45 minutes of strength training. Then his Early Bird Tennis program starts at 7am and he usually plays tennis for an hour or two. After that, he hits the locker room, uses the whirlpool and enjoys the Henry Buss breakfast in the bistro: 2 eggs, over easy, with two slices of toast.
Health and Tennis Tips from Henry
Henry believes that the secret to long life is keeping fit. He believes that this is more important than nutrition. Eating less is better than eating more but keeping active is the real key to living well. You need to make time for your health every day and his favorite time to sneak away is the morning. Henry also believes in the health effects of playing tennis. Tennis players live over 9 years longer than average, says a study of over 8000 people in England, much longer than cyclists, swimmers, soccer and hockey players! Judging by Henry's level of fitness and health at the age of 80 – this does seem to be true!
As part of Henry's Early Bird program – he also coaches the participants. Here are some quick tips from him to help improve your game at any level:
Forehand: Big O shoulder to the net
Backhand: Small O shoulder forward
Prepare Early and watch the ball
Squeeze the grip as you hit
Step into your serve
Always follow through
Return balls deep into no-man's land
More About Henry
Henry came to Canada from Germany when he was 18 years old with his brother and they landed in Winnipeg.  He worked retail in the health food industry in Winnipeg until he was transferred by his company to Toronto in the late 1950s.  Shortly after, he started his own business – a health food store at Bloor and Dovercourt called Health Service Center. Health Service Center is a health store selling only the best and highest quality health and wellness products. The business was very successful and expanded to include 5 stores throughout the GTA as well as an online store that sells juicers and appliances. Henry is now semi-retired and leaves the running of the business up to his children!
If you'd like to join Henry's Early Birds, get in touch with him via email at henry.buss@rogers.com.