Mayfair Member Spotlight: Nina Sampaleanu
Member Spotlight Winner
Nina Sampaleanu has been a Mayfair Member for 6 years. She was originally a member at Mayfair East but more recently, a member of Mayfair West. She started playing tennis around the same time she joined Mayfair and became very passionate about the game. She even encouraged her whole family – her husband, son and daughter – to participate in the sport. It's become an activity for her entire family!
Why Nina?
When Nina first started playing tennis, she started as a total beginner, as she had never played before joining Mayfair.  She didn't play any matches for her first year of learning the game but once she got good enough, she started to play in the Ladies Interclub. She was diligent in practicing and playing tennis every week. Then she started to play mixed tennis leagues around the city to up her game. Today, she is on the Premiere 1 team at Mayfair West, playing on a team with other top players. We selected Nina as our Member Spotlight because of her hard work and dedication for improving her game of tennis.
What Does Nina Do At Mayfair?
Along with playing tennis 3-4 times a week, Nina works out with a personal trainer and does yoga to keep fit.
Interesting Thing About Nina
Nina is also a highly skilled encaustic artist. Her work is characterized by colour and texture. She uses wax for painting, dipping, pouring, sculpting and gluing, creating three-dimensional works that stand out from the wall, physically and figuratively.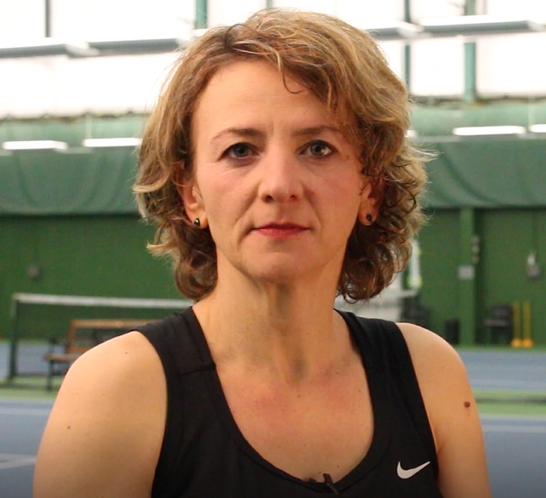 "The Mayfair Experience is an outlet for fun and physical activity for me. Playing tennis allows me to be myself and creative at the same time."
If you see Nina around the club, be sure to say hello and ask her about her tennis journey with Mayfair!