Mayfair Member Spotlight: Rita Ngo
Mayfair Member Spotlight
Our Mayfair Member Spotlight for the month of November is Mayfair Parkway member, Rita Ngo!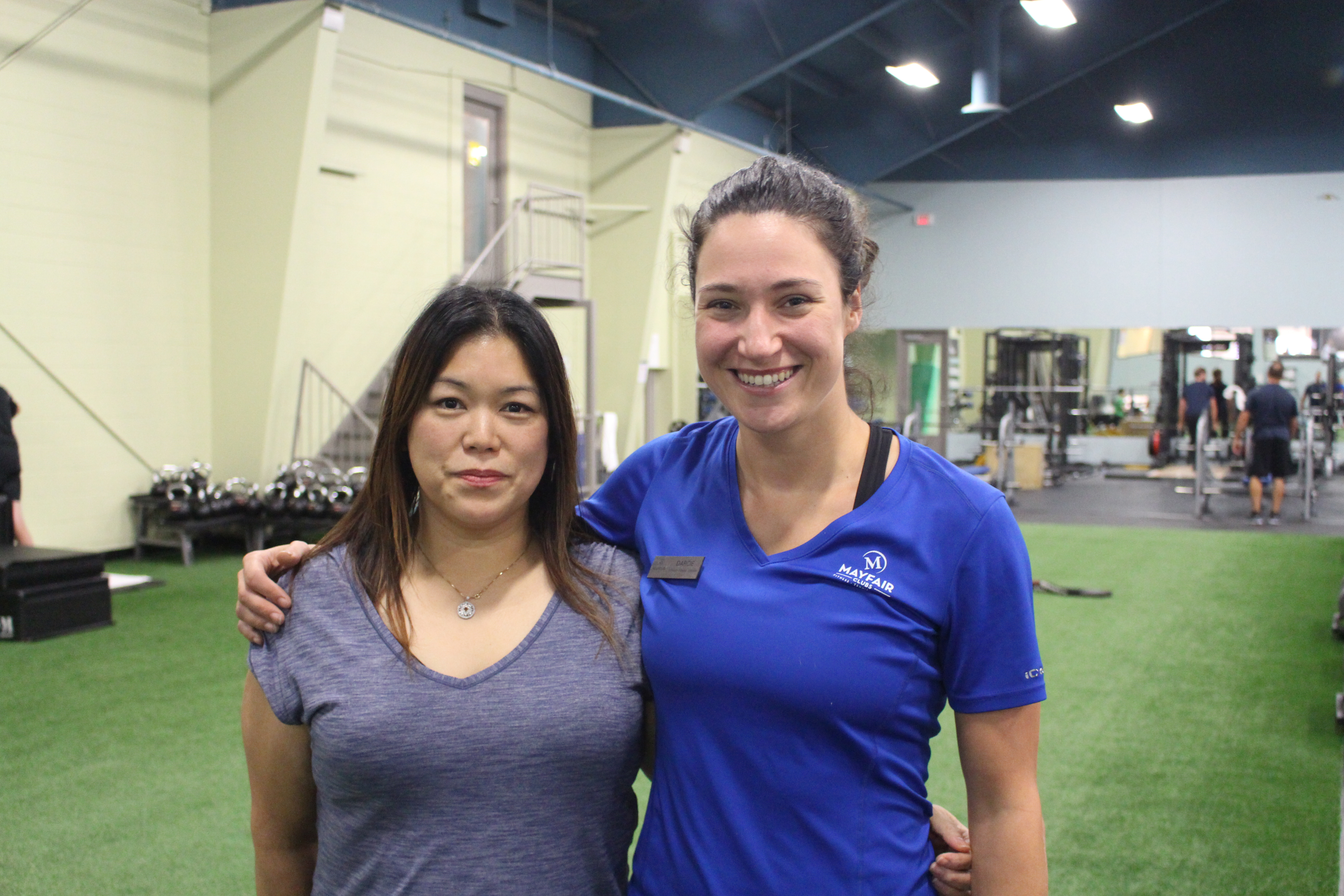 Why Rita?
Anyone who knows Rita will tell you what a positive and kind person she is – just ask Parkway's Fitness Manager, Joe, or her trainer, Darcie. You can often find her on the gym floor laughing (and sweating) through Darcie's workouts. Even through the toughest sessions, her mantra has become a quote from Michael Jordan, "Make it Happen."
What people may not know about Rita, is that her fitness story is one of real determination and strength, and in under one year, she completely changed her health.
A New Challenge
"This past January, I joined Mayfair with the goal of becoming healthier.  Setting goals, achieving them and creating new ones is now a part of my mission statement. My personal trainer, Darcie, takes my workouts to the next level.  She guides, challenges and pushes me to an optimum level of fitness, which has allowed me to see continued results."
Rita's decision to commit herself to improving her health and fitness was met with enthusiasm by her personal trainer, Darcie:
"When we first started working together, Rita had clear goals and was focused on improving her current health status. She had been diagnosed with type 2 diabetes and was on medication. Over the past year, the changes I have witnessed in Rita have been astronomical, both physically and emotionally.
I will never forget the day I got a message from her telling me she had "big" news and couldn't wait to tell me in person. She had seen her physician and her hard work – healthy eating habits and regular exercise – had paid off! Rita had been taken off one of her diabetes medications and a number of other medications had decreased in dose."

Building on Success
Rita has completely transformed the way she views fitness:
"Mayfair Parkway has allowed me to fall in love with taking care of my body.  It has shown me that fitness has no limits and can become an integral part of my lifestyle. Overall, my body has taken on a new fit shape and I have so much more energy. I'm still in shock that I'm able to leg press 300 pounds!"
Her personal trainer, Darcie, is one of her biggest supporters. When asked about Rita, you can see Darcie's genuine desire to see her reach and set new goals: "Rita Ngo is the perfect example of how motivation, fearlessness, and a positive attitude can allow you to achieve your goals and ultimately change your life for the better."
Creating an Active Lifestyle
Rita's fitness journey doesn't start and end on the gym floor – she's found new and fun ways to stay active with her family. "Other activities that I enjoy at Mayfair are Pickleball, Tennis, and the Spa, of course! My friends and family have also enjoyed playing a few games of family Pickleball in the multi-gym. They unanimously exclaim that it's so much fun!  Although my sons usually groan when I ask them to go to the gym with me, they change their tune once they've greeted the front desk staff and get into full workout mode. They've even been caught being competitive on the Pickleball court!
Developing a Support System
Rita believes that her success is due, in part, to the support she receives at Mayfair. "Mayfair Clubs is more than four walls. It is comprised of a wonderful group of staff and members. People really do make a venue more special. This extends throughout Mayfair, wherever you might be." It's clear, after speaking with our fitness team, that Rita has some serious fans. And at the top of that list is Darcie: "Rita's hard work and willingness to confront her fears was paying off and now she had solid proof of that. As a trainer, and I am happy to now say friend, I couldn't be prouder of how far she's come in such a short period of time. I feel privileged to be part of her journey and am so excited to see what is next for her."
For Rita, "everyone needs a place like Mayfair – where people "make it happen."
Learn More About Rita's Personal Trainer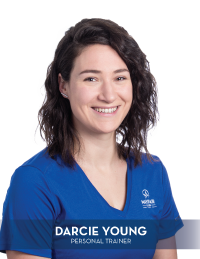 Darcie Young is a Personal Trainer at Mayfair Parkway.  She is a graduate of George Brown College's Fitness and Health Promotion Program, and has completed her BaSc (hons) in Kinesiology with the University of Guelph-Humber, where she specialized in the effectiveness of endurance training on functional movement and gait in individuals with Parkinson's Disease.We've also included one of Rita's personal training workouts from her trainer Darcie if you'd like to try out one of her sessions:
DOWNLOAD SAMPLE WORKOUT
.
Learn More About Personal Training
If you'd like to learn more about our Personal Training program at Mayfair Parkway, speak to our Fitness Manager, Joe at jharwood@mayfairclubs.com.