Mayfair Clubs Member Spotlight
Meet Watson Dong! He is 13 years old and has been a Mayfair Parkway Member for the past year. Watson traveled all the way from Harbin, China to Toronto, Canada based on a recommendation from his Chinese tennis coach to train under the direction of renowned tennis Coach Casey Curtis. Casey Curtis has coached many Provincial, National and International level players, including Milos Raonic.
Why Watson?
Watson is a student in Coach Casey's High Performance Junior Tennis Program at Mayfair Parkway. This program is recognized by Tennis Canada as a leading training site for the development of top Canadian juniors.
This High Performance program is designed and proven to bring out the best in every player. In Casey's unique "theme-based" approach, each micro-cycle is focused on perfecting a specific stroke or tactic and improving mental conditioning.
What Does Watson Do at Mayfair?
As part of the program, Watson does private lessons with Casey twice a week. Watson participates in tennis clinics three times a week in addition to playing matches with other High Performance players. Not only does Watson play tennis for more than 10 hours per week, he also does fitness training 4 times a week working on his core and balance work, foot work drills, skipping and speed work. Watson also runs and swims in his own time.
What is Watson's Favorite Thing About Mayfair?
"My favourite thing about Mayfair is that there are nice tennis courts and nice coaches."
Who Is Watson's Hero?
"My hero is Roger Federer. I want to be a tennis player when I grow up!"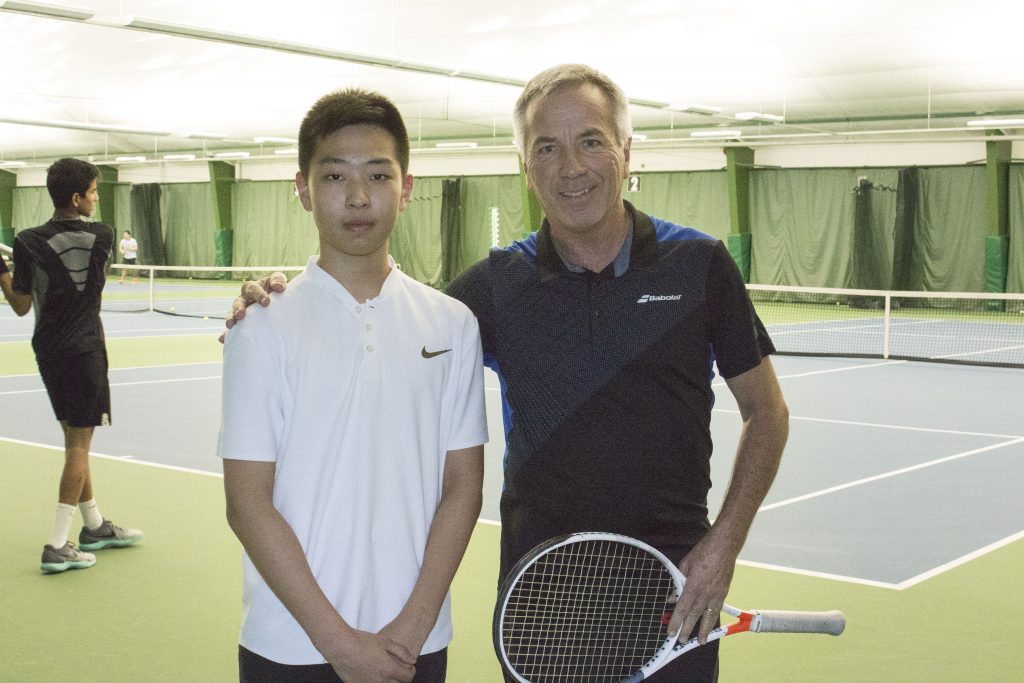 Watson is definitely an athlete to watch! Way to go Watson – we are so proud of all the work you've been doing and your positive attitude!
Want to Learn More?
If you'd like to learn more about the High Performance Junior Tennis Program at Mayfair Parkway, visit our website, email Bob at bbregman@mayfairclubs.com or call Bob at 905-475-0350 ext 3526.