Meet Mayfair Personal Trainer Andre Armbrister
Meet Andre Armbrister!
He has been a personal trainer at Mayfair Clubs Lakeshore for over 3 years. He has been working out in fitness centers for almost a dozen years, half of which were professionally as a personal trainer. This past November, Andre took the plunge and participated in his first physique competition, the 2017 GNC ALLMAX KING KONG NATURAL CHAMPIONSHIPS and he placed ninth overall. We are so proud of him!  Read about his incredible training journey below: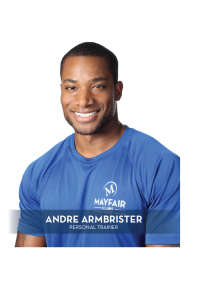 ---
I had been approached several times over the years to train for a physique competition, so I finally took the plunge to strike this experience off my bucket list.  I signed up for the 2017 GNC ALLMAX KING KONG NATURAL CHAMPIONSHIPS in November 2017. Even trainers need coaching too, so I connected with a friend and former competitor to design my training and nutrition programs to get the ball rolling.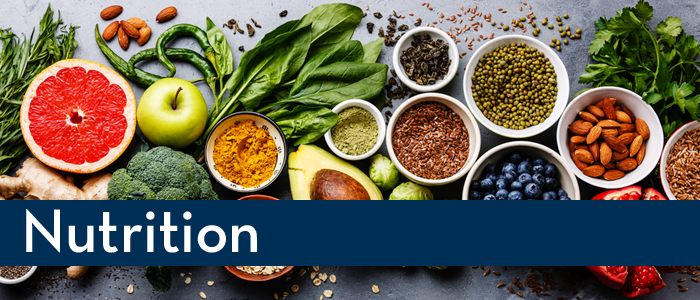 I began a 12-week training and nutrition program in early August, designed for me to be in peak condition for my show on November 11th. One of my biggest takeaways from this experience was the importance of timing of an intensive program like this – staying on track with your meal plan can be challenging when everyone is inviting you to BBQs, pool parties and patios at the end of summer. I had to bring my own food and water and be extra disciplined to decline all the indulgent food and consume ZERO alcohol.
Following the nutrition program closely had a huge impact on my body. Not only did I get leaner and gain muscle mass, but I was healthier. Prior to this program, I had low energy, poor digestion and stomach trouble and breakouts – with better nutrition, everything changed and I dropped 3.5% body fat. To follow a plan like this, you must prepare your meals ahead of time as well as organized, as there is no grabbing food on the run. This was challenging at times, but it was awesome to be able to grab my food and go or not have to think about what was for dinner at the end of a long day. I did miss sharing meals with my girlfriend though, and it was really hard to watch her eat a slice of pizza in front of me. Thankfully I had a cheat meal on Saturdays which we enjoyed together as a date night.

For the training portion, I was in the gym 5 days a week. The program consisted of mostly high-volume isolation exercises with a few and compound movements as well. This was a definite change from the strength-based training I was used to doing as an athlete. Surprisingly, each session only took about 45 minutes to an hour. I really enjoyed the added cardio at the end of the workout, as it wasn't something I had been doing regularly before. Recovery was also a very important component of this program – you have to listen to your body and manage the bumps along the way. For the competition, I also had to learn to pose which was very challenging, but also a fun experience.

Being on stage on November 11th was a little scary but so much fun! You get to show off something you worked hard for. The most amazing part was the incredible diversity among the competitors. Some athletes and trainers, but a lot of regular folks of all ages who had taken on the challenge to transform their bodies. I met this amazing lady in her 50's who simply wanted to have her best summer body ever and wanted to learn how to continue a healthy lifestyle in the future so she could keep up with her family. You can get results in a short period of time but the lessons you'll learn along the way will last the rest of your life.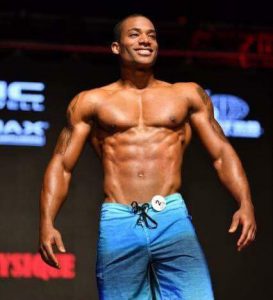 ---
Way to go Andre! We are so proud of you and your accomplishments!
If you'd like to learn more about training for a physique competition or personal training at Mayfair Clubs, contact Darryl via email at djinks@mayfairclubs.com.