Member Spotlight: Diana Naiberg
Mayfair Member Spotlight
Our Mayfair Member of the month is Diana Naiberg from Mayfair West! Read below to learn about her ACL recovery journey with Mayfair Clubs.
Why Diana?
This month, we showcase Diana Naiberg and her recovery journey through a complete ACL & Meniscus tear and MCL sprain and how she was able to face the exact place it happened less than one year later! We sat down with her to learn her story:
The Accident
It was Family Day weekend February 2019 and I was with my family in Vail, Colorado. I was the strongest I had ever been (some may say I lived at Mayfair West!). My husband, Mike and I decided at the end of our second last day of skiing to go down one last run. It was a "tougher" run but one we had done before: a double black mogul. The conditions were great – lots of fresh powder.
While going down the run, I turned around a mogul and the back tip of the ski got stuck. My foot didn't come out of the binding and every skiier's worst fear happened. I heard the dreaded pop of my leg giving out. Ski patrol came down immediately and I got down the hill on a sled and went to the hospital. This is where they confirmed via MRI that it was a full ACL and meniscus tear with a MCL sprain.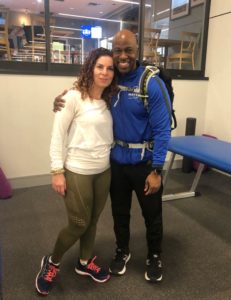 Next Steps
I started the process of finding a surgeon in the city; with a two month window before getting the surgery to allow the swelling to go down completely. I also needed to do physio prior to the surgery to get a full range of motion. There was a two week window immediately following the accident where I wasn't able to do anything. But after that, it was time to work hard to get into the right condition for the surgery.
The Recovery Process
I had friends at Mayfair who have gone through similar knee surgery and they told me how painful it is. I thought it would be fine because I have gone through pains before (broken ankle, toe… even childbirth!). I felt physically and mentally strong.  The surgery itself went well. They took a graft of my hamstring to create my new ACL. I was told using the hamstring would help reduce the chance of osteoarthritis down the road. After the third day post op, I was miserable. It was mentally and emotionally hard. Hard because you couldn't do anything and the pain was terrible. I had gotten into such great shape that it made me question if I had done the right thing doing the surgery. But I pushed on! Three days post op, I threw a crutch out of frustration. Two weeks post op I was like "oh yeah, I CAN do this".
As per my doctor and physiotherapist, I was only allowed the stationary bike for the first three months. I wasn't allowed to break a sweat; it was about getting the leg around one full loop. Every three weeks, I could increase the pace and resistance by a notch. It was always small wins that I focused on; always striving to push myself a little more each day.
Back at Mayfair
About four weeks post op, I was given the green light to come back to Mayfair. Quite frankly, I needed to get out of the house! It was somewhere else to go other than the physio clinic. My initial thought back at the gym was that I wanted to cry. I saw all the equipment (leg press/ squat rack corner) that I practically lived in. Before I got injured, I could squat my physical weight and I didn't think I would get back to that point.
I had a strict training plan which my physio provided me with. I trained with Carlton Brown who also provided me with an additional program under the physio's guidance. Carlton didn't want to do anything without approval.
Facing Vail One Year Later
We always book our ski trips in the summer. My surgeon reminded me that I was unable to ski for the 2019-2020 winter season. However, I didn't think it was fair to take my family away from it just because I couldn't. So we decided to still go on our ski holiday and go back to the "scene of the crime": The same resort in Vail.
When we pulled up to the resort and went around the hospital, it was hard for me; I had flashbacks. The first two days of our holiday were tough! While my family went skiing, I went to the gym and continue to train and workout. I made friends with the phsyio and trainers there. One trainer came up to me asking if I had taken my trainer certification because he was so impressed with my squatting and deadlifting. One  month post op I was crying looking at a squat corner. 10 months later I got a compliment on my technique and form!
My biggest accomplishment was snowshoeing up a mountain. A 2200 vertical feet in one hour and 58 minutes. It was a different run than the one I got injured on. It was a Blue run and quite steep. I remember my husband saying to me "if anyone can do it, it's you. I don't know anyone who's more determined and focused when it comes to strength training". The whole way up, I thought of him and his voice in my head. When I made it to the top, I called him and shared that I had made it.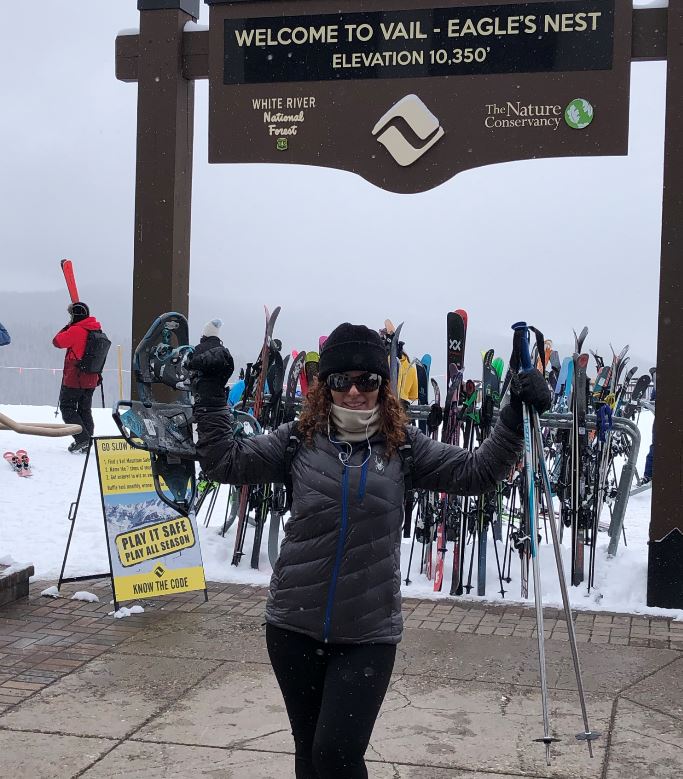 Final Thoughts
I want to thank Carlton for constantly pushing me. I also want to thank Darcie Richler, Elize Tzurkov & Elise Weiss. Mayfair is a great community and there were many people I don't have time to name who supported me through this journey. It's nice to know people to help boost your confidence and Mayfair Clubs is the right place to be. Mayfair is more than just a place to work out, it is a community that provided me with great friends and support.
ACL injuries are common and not as bad as you think they are. Keep at it, work hard and you will get through it!
Learn More About Personal Training
If you'd like to learn more about our Personal Training program at Mayfair West, contact klloyd@mayfairclubs.com.