Pickleball Tips from Head Pro Mark!
After a long hiatus, I'm excited to formally welcome all Pickleball enthusiasts to the 2022 season at Mayfair Lakeshore. We have so much in store and I'd like to start off by announcing that Daniel Gottfried will be joining me as a Pickleball Pro and he will be instrumental in the growth of the game at Mayfair Clubs. I wanted to quickly introduce him, let you know about our programming and provide you with some tips to improve your game!
Introducing Daniel Gottfried, Assistant Head Pro
Daniel is a competitive Pickleball player who has medaled in Men's open division. His immense passion for Pickleball has lead him to become a certified coach, help others hone their skills, and prepare competitive players for tournament success. 
2022 Season Programming
Check out the link below for more details on our Pickleball programming:
Quick Tips to Improve Your Pickleball Game
Power and Control Are Important
What do all good Pickleball players have in common? They have the ability to control the placement and speed of their ball. This is the biggest key to wins on court. It might be difficult to train for power, but control is a skill that can be learned with practice. With ball control, a player can make the ball move faster or slower, hit specific targets, and keep play consistent. A player who can control the ball will always have better performance on court.
Practice, Practice, Practice Your Drills
Good Pickleball play skills aren't acquired overnight. Even when you feel like you have achieved the right touch, that's just the beginning of your path to becoming a better player. Players must continuously get those repetitions in with regular and consistent practice drills. Many players think that recreational game play is the best way to improve, however, conditioning drills are incredibly important. Even when you focus on that new skill and it clicks, that doesn't mean that skill is going to stay there. You have to consistently keep practicing to maintain it.
Prepare for Game Play
I encourage all players to spend 15-20 minutes, several times a week, working on specific skills before jumping into gameplay. It will provide you with a great warm up and you will be able to identify which of your skills need more work.
This is a great instructional video from Nichole Havlicek from Prime Time Pickleball. Nicole is a former nationally ranked Division 1 tennis player turned 5.0 level Pickleball player and an IPTPA certified Pickleball coach. I love her videos and recommend watching this one where she goes over some easy, DIY drills to improve your ball control that can be done  in 10 minutes or less!
Looking forward to a great year of Pickleball filled with growth, fierce competition and fun. See you soon at 0-0-2.
Cheers,
Mark Gottfried
About the Author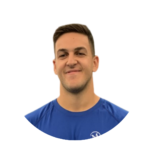 Mark is an accomplished Pickleball player, recently medaling in Open Men's Doubles. He is a talented coach and is passionate about the sport. His recent appointment as the tour manager of the Canadian Pickleball Series, responsible for running tournaments and hosting specialized clinics, makes him a great asset to Mayfair Clubs. He will be able to take our players to the next level and will help us grow Pickleball at our clubs.