Practice Matches
Guest authored by Michael Emmett, Tennis Pro, Mayfair Lakeshore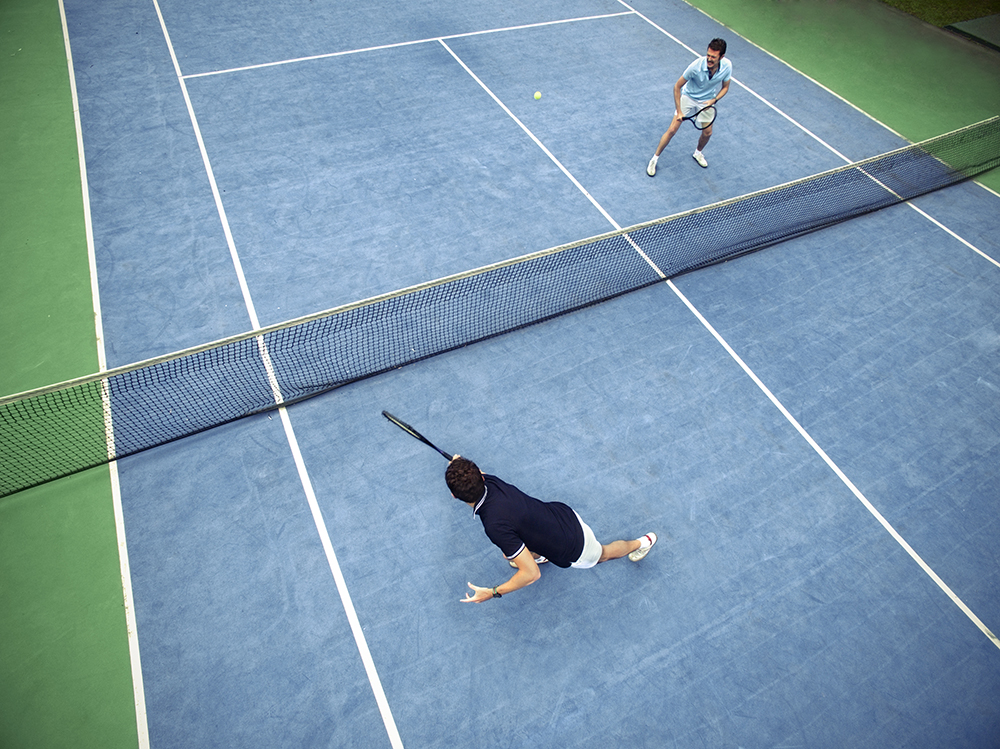 Picture this scenario – you are involved in an eight person Round Robin on a Tuesday morning, and you're using this as a springboard to a League Match the following day against one of the top teams in the Division. What should your goals be during this 2-hour practice session with most of your teammates?
This is of vital importance – and the way you answer this question could be the determining factor on whether you win or lose your match the next day. If most of you are honest with yourselves, you would put winning this practice match as the ONLY component that really matters. I know this to be true because I've been watching this happen for almost 10 years.
Practice Makes Perfect
I see it daily – some of you would rather win the practice match with your buddies than win the match that counts on game day against the 'real' opposition.
Practice matches are meant to PRACTICE – not to win. This is the time to experiment with a variety of things – technique (if you are so inclined), strategy, positioning, partners, sides of the court, formations, overall philosophy.
If you don't experiment with these types of options; you will never improve. Why not practice your new kick serve?  Why not try the 'I' formation when you are down breakpoint? Why not make it a team goal that you will not let ONE ball bounce during the entire set? Why not make it a goal to hit every ball down the middle when you have a finishing ball? Why not tell your partner that you're working on your 'T' serve in the deuce court because you know it's a critical shot to have – so you are going to hit it all day long no matter what – even if you are 0 for 10!
Prove Yourself in the Real Match
I know there is a pecking order on the various teams and some of you feel like you need to prove yourself to your peers in these types of settings, but in reality this is not the time to win at all costs so that your captains give you more playing time. If you win on game day & perform when it matters – the issue will take care of itself. Teams want to win and contend for division titles. So in most cases, the best players are going to get the most matches.
Treat practice matches as an opportunity to get better – not as an opportunity to impress your teammates.
Take One for the Team
One of my fondest memories (at the time it wasn't so fond) took place when I first arrived at Mayfair Lakeshore back in 2008. I was involved in a friendly match with 3 other very strong men who were practicing on a Friday afternoon getting ready for their Sunday night match against the top team in the league.
I was filling in for somebody and, because I was a little rusty, I desperately wanted to win. I hadn't played a set in almost 12 years. I wanted to show the boys that I still had the goods to compete at the highest level and remember feeling extremely nervous. Even though I was a former National Champion, I had to prove that I belonged with the 'heavyweights' of the club. I hadn't played a competitive set in what felt like forever! I remember winning the first set handily and my partner (who will remain nameless) said OK it's time to take our foot off the gas. I was shocked. But the two guys on the other side of the net were going to be playing together in the Sunday Night match and they were struggling big-time to find their rhythm.
My partner, who was super talented, started hitting shots that were out of character – trick shots and crazy angles.  He said again to me very clearly – "these guys (our opponents that day) had lost their last 3 league matches and they needed a boost in confidence." My partner essentially said we are going to let them win without making it obvious.  They won that set 7-5 and they had no idea we 'gave' it to them. They went on to win their next 5 league matches and were unbeatable at the end of the season. I'm not 100 percent sure it was our gesture that got them off and running, but I'm positive it made a huge difference in their psyche as they went forward into their season.
In hindsight, I can see what a team player my partner was that day. He understood the complete picture. He was a mastermind when it came to boosting his teammates. He was super confident and realized 'throwing' one set was not going to diminish his play or mine going forward. But the ramifications for our opponents that day were huge, and it was a massive springboard for the rest of the season. This is something that I will always remember. This was the ultimate sacrifice in terms of tennis. But this is a guy who got it.
Don't Get Competitive for Practice!
How many of you reading this article would ever contemplate such a thing to help out a buddy or a teammate? I see these practice matches and sometimes wonder if you all are on the same team. The debates over the score and the line calls are sometimes never ending. Who cares what the score is? Who cares if the ball was in or out? It's not important – what's important is getting yourself ready to win the following day!
I'm currently preparing for a Men's League playoff match on Tuesday night and I will be practicing with 3 of my teammates on Sunday night in preparation for the big match 2 days later. I can tell you that winning this friendly match, 48 hours in advance of my playoff match, will not even be a consideration.
Understand What Needs Practice
I will have 3 goals that go hand-in-hand with my performance in the real match. Moving my first serve around into spots that I know will work on Tuesday night and not necessarily in the practice match. Returning from the deuce court and getting a few more reps from a side that I'm not that accustomed to. Finally being a little more decisive with my volleys – knifing them and finding the holes in the court.  If I do these 3 things – and feel confident & comfortable – then the practice match has been a success. I would much rather perform these 3 tasks with conviction than win this meaningless practice match.
Remember Why You Are Practicing
My point here is that I'm playing this practice match with the real match front & center in my mind. Even though I'm playing against 3 guys I know very well – I'm not really playing them! I'm playing the guys on Tuesday night and this is the warmup or lead-up to this all important match. Every shot I hit is with the real match as the focal point.
For example, it might be 4-5, 30-40 (set point for the other guys) in the practice match – and the most obvious serve, in this situation, might be a wide serve to my opponent's backhand (because this is his weaker shot and this serve has worked every time). But on Tuesday night (I think I know who my opponents will be), the situation will call for a serve down the 'T'. Because I don't care whatsoever about the practice match score – of course I will hit the 'T' serve and see if we can execute from a different spot on the court. Remember, every shot is being hit with Tuesday night in mind NOT with winning this insignificant practice match.
Good Practice Isn't About Winning
It's a different mentality, it's a different way of thinking, but it is so important if you want to have a better win-loss record in the matches that are meaningful & important. Play your practice matches with goals and objectives – just make sure winning isn't one of these goals or objectives! Because when winning is the purpose, usually the play becomes tentative, one dimensional & scattered – not a winning formula for improved play going forward.
If you'd like to learn more, email lakeshoretennis@mayfairclubs.com.