Squash is a fast moving sport that has many cardiovascular benefits. It is known for burning the most calories when compared to other sports – it even beats out running! Squash can be played as an individual or team sport. Squash is a great stress-reliever as it's a fast-paced and energetic game.
Our courts are still open and this is a great opportunity to get on the court to practice some solo drills and conditioning. If you have a household of squash players – you're in luck and able to play matches on court. For the rest of us, the current regulations allow for drills and condition games only amongst members in the same pod.
However, you need to be mindful of several new tips to stay safe during this time. We asked our Head Squash Pros Cole Osborne, Manu Dutt and Willie Hosey to weigh in with their top health and safety tips for Safe Squash Play. Read on to learn more!
1. Sanitize Your Hands
Players should sanitize their hands each time before entering, and after leaving. We recommend washing your hands with soap and water once you return home.
2. Don't Touch Anything
Avoid touching walls, floors, the glass and other court surfaces when possible. It is also recommended that players and coaches not touch their faces while on the court.
3. Wear a Mask and Eye Wear
Players must bring their own equipment including racquet, ball, safety glasses, towel and water bottle. You will also need a mask to enter our facilities. iMasks are highly recommended to be worn when playing to protect your eyes. Members must wear certified eye wear and a face mask at all times on and off courts.
4. Come and Go Quickly
Players should only enter the squash court area a maximum of 5 minutes before their court time and exit immediately after finishing practice. Players must not loiter in the club.
5. No Touch Let Directive
Effective immediately, players are strictly prohibited from making any deliberate and/or prolonged contact with each other. As such, let provisions are expanded to ensure points can be re-played if there is a reasonable probability of interference and a subsequent good return. Deliberate and/or prolonged contact with your opponent will be subject to code of conduct.
6. Tap Racquets
Instead of giving high fives or shaking hands, players can tap their racquets together at the end of a match.
7. Play with Your Pod
Only play matches with other players that are in your pod/social group. If the player is not in your pod then you should only participate in drills in which you are 2 meters from your opponent at all times.
8. Clean & Sanitize After Court Use
Players must clean the door handles with sanitation wipes before and after play. It is also recommended that player wash their hands with soap and water.
9. Teach and Remind Other Players
We've created a visual quick reference guide to help Squash players remember the rules to play safe. Feel free to print and share with your Squash community. If you see another player doing something that isn't safe – tell them! Or let our Pros know and they can remind the individual of the new policies.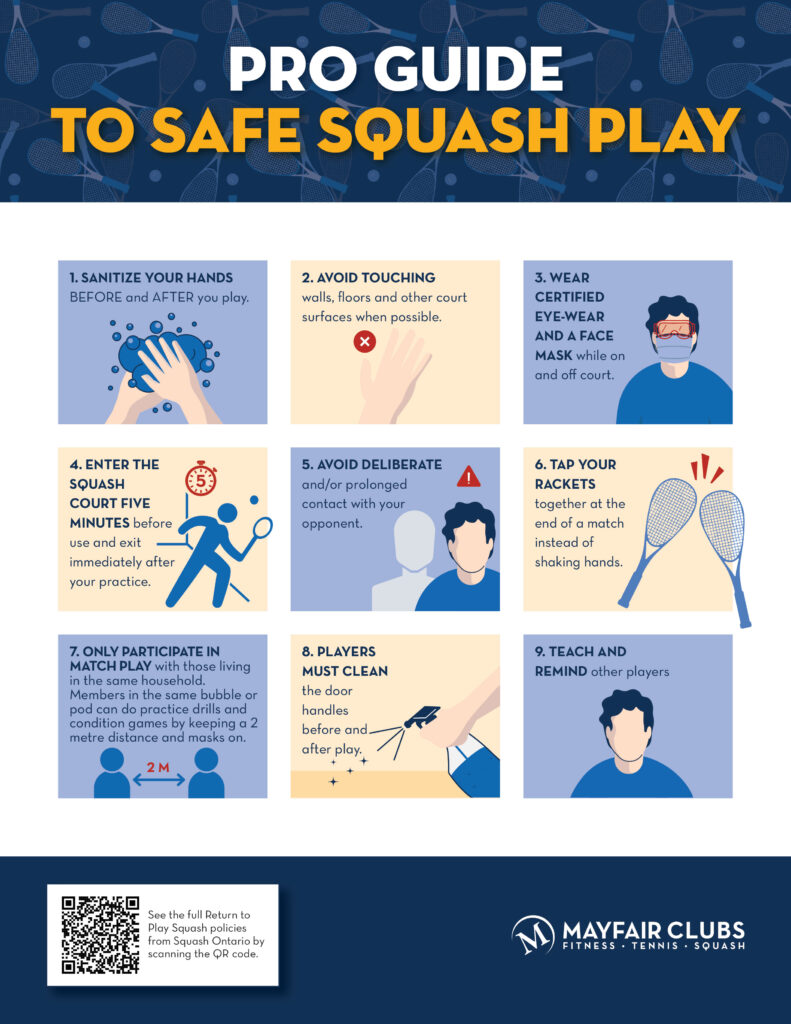 More Questions?
If you'd like to learn more about Safe Play, please visit The Return to Play Guidelines by Squash Ontario or contact our Squash Pros.
Manu Dutt – lakeshoresquash@mayfairclubs.com
Cory McCartney – parkwaysquash@mayfairclubs.com
See you on the courts and play safe!