Notice of Exciting Lakeshore Renovation Plans
Great news! We are thrilled to announce that our Mayfair Lakeshore Club is undergoing a major transformation this summer to meet growing demands from our Members. We are excited to unveil our fantastic new renovation plans that will bring members a brand new & upgraded, multi-purpose gymnasium that will include 4 indoor pickleball courts, a full-sized basketball court, a mini-sized kids basketball court, & 4 badminton courts for your recreational pleasure. In addition to this, we will also be making some much needed upgrades to our Locker Room amenities. Read on to learn more!
Renovation Plans:
Phase I Facilities: Scheduled for Re-Opening
November 2023:
Men's Changeroom will re-open as of Monday November 6 at 12:00pm
Please contact Brenna if you'd like to learn more about purchasing a rental locker in the Men's Changeroom
January 2024:
Newly Renovated Kidspace*
New Private Pilates Studio (now located behind Kidspace)*
New Cycle Studio (previously the Yoga Studio)*
New Yoga Studio (and Interim Group Exercise Studio, previously the Multigym)*
New Pickleball Courts and Multigym Facility (previously the Group Exercise Studio, Golf Area and Cycle Studio)*
Additionally, we're delighted to inform you that also in January, we will be re-painting all of our Squash Courts and replacing the hallway carpeting and furniture in the vicinity.
*Note: The re-opened spaces can be seen in the areas highlighted with the yellow border in the image below: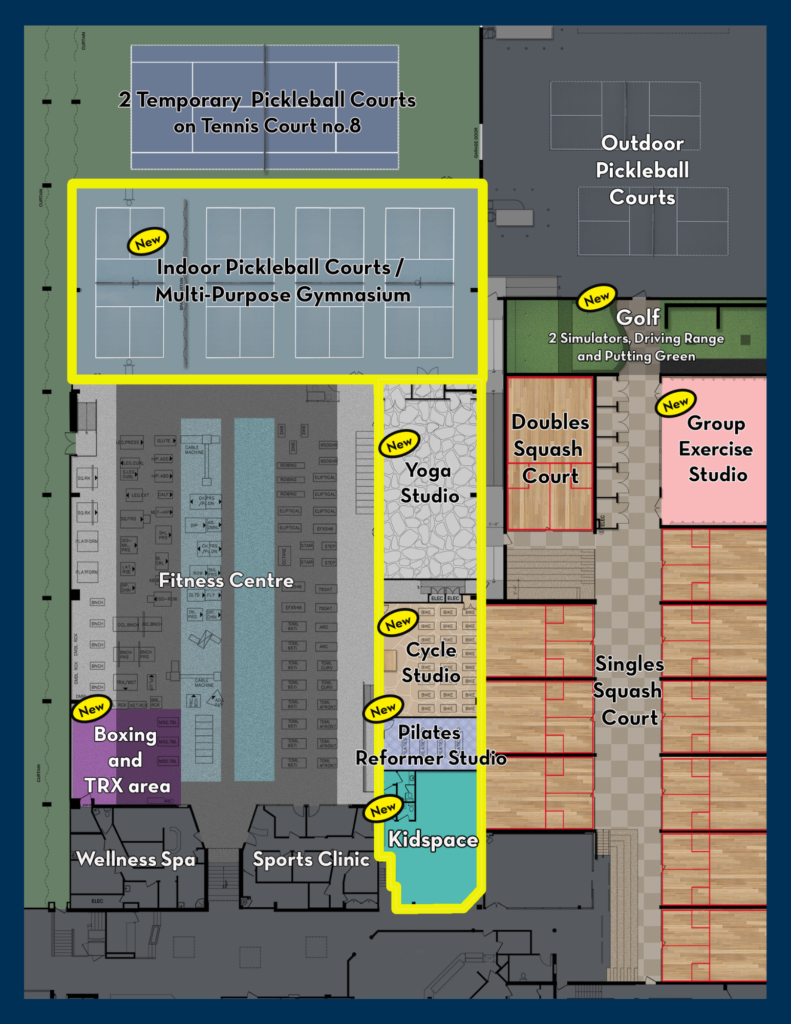 Phase II Facilities: In Progress | Completion Date Still TBD:
The new Boxing and TRX area (previously the Pilates area)
The new Golf area with 2 new Simulators with Driving Range and Putting Green (previously Squash courts)
The new and improved designated Group Fitness studio
Temporary Re-Location of Some Services:
The following set-up with temporary re-location for some services will continue to remain as is until the Phase I and/or Phase II projects are completed:
Tennis Court 8 will continue to have priority booking available for all Pickleball players until Phase I is completed
The 2 Squash Courts currently being used for Group Exercise classes will be available as Phase I completes, giving Squash Members access to all 9 Squash Courts
The Adult Lounge will continue to be used for a small number of Group Exercises/Yoga classes until Phase II is completed
What is Happening?
We will be updating the wet areas of the Men's Changeroom in the future. The renovation will include updates to the showers, whirlpool, sauna, steam room and washrooms.
When is this Happening?
It is too early for us to anticipate the start date for this project.
We can't wait to welcome you to our newly-renovated facilities, which will provide an even better experience for our members. Thank you for your continued support as we continue to work to improve our Mayfair Lakeshore Club.