Introduction to Pilates
What is Pilates?
Pilates is a series of slow, controlled body conditioning exercises that target the deep abdominal and postural muscles known as the Core. The workout is aimed to improve flexibility, develop control, and build on strength and endurance while encouraging the mind-body connection.
Each exercise focuses on breathing, centering, concentration, control, flow, posture, alignment, precision, relaxation, and stamina. The most important aspect of Pilates is the strength surrounding and the suppleness of the spine which leads to improving mobility in the entire body.
Who Invented the Pilates Method?
In the early twentieth century, founder Joseph Pilates first coined his method of exercise "Contrology" or "the study of controlled movement". As a former gymnast, boxer and circus performer, Pilates had a strong foundation in physical fitness and dedicated his life to improving his athletic abilities. He was able to hone his fitness regimen while placed in an internment camp in Great Britain during World War 1 as a German citizen.
It was there where he worked as a fitness trainer and nurse, helping injured veterans recover through strengthening and reconditioning. A series of exercises were developed for the soldiers to perform while in their hospital beds making it possible for severely injured patients to move in a supported way.
In addition to controlled exercises using ones' own body weight, Pilates began to create the first models of the Reformer by attaching pulleys and spring resistance onto the beds laying the foundation for the classical mat work and reformer syllabus which we still use today.
(Source: https://en.wikipedia.org/wiki/Pilates)
What is the Pilates Reformer?
Reformer Pilates provides a more dynamic, full-body workout using Pilates equipment such as the reformer. The Pilates reformer is a traditional piece of Pilates equipment which looks like a bed with springs, a sliding carriage, ropes and pulleys.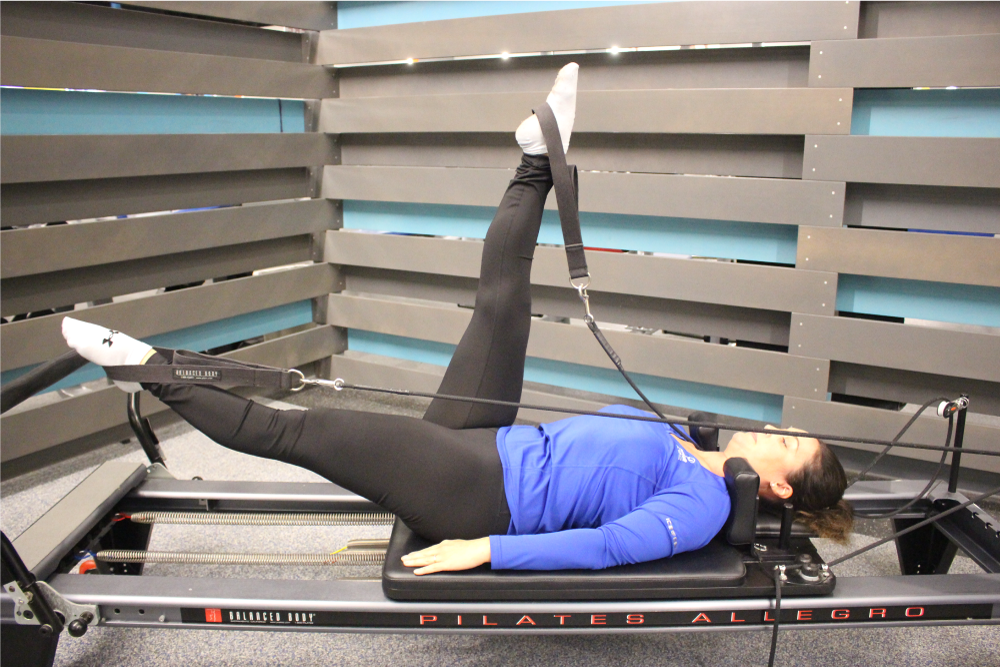 The platform is called the carriage, and the carriage is attached to one end of the reformer by a set of springs. The springs allow you to adjust resistance to the carriage, which will be pushed and pulled along the frame by your own body weight and strength. There are also shoulder blocks on the carriage that keep you in a stable position so that you're not sliding off of the end of the reformer .
There is a footbar at the end of the reformer — an adjustable bar that holds the springs. Your feet and hands can be placed on this bar depending on the exercise. The reformer also has long straps with handles on them that your feet or hands can be placed in to; these are at the top of the frame opposite of the footbar.
Reformer Pilates offers more variety and is great for building and toning the muscles of the entire body, all the while increasing joint stability. However, it's also great for rehabilitation if you are recovering from surgery or an injury.
Source: https://www.nbcnews.com/better/lifestyle/reformer-pilates-what-it-who-it-s-best-how-do-ncna1094436
Why Should You Do Pilates?
Pilates is a great way to add to your existing exercise regime, start exercising or getting back into exercising after a long hiatus. The basic principles of Pilates apply to all movements of everyday life: control, breath, flowing movement, precision, centering, stability, range of motion and opposition.
It provides great training for athletes in all types of sports and activities, from dancers to tennis players to football stars. Because of its rehabilitative tendencies, Pilates is a wonderful compliment to an already active workout routine, focusing on the smaller synergistic muscles that help to support the superficial muscular powerhouses.
Who Can Do Pilates?
Pilates can be done by anyone. The slow and graceful movements make this exercise accessible for most regardless of age or fitness level. It can be a terrific family routine, a couple's way to spend time together while working out at their own pace, and even an option for seniors who need an exercise regimen to strengthen aging bones and joints in a low impact way. With endless ways to modify, classes can be adapted to address specific needs of a wide range of adults, from active Boomers to those with restricted mobility.
Watch a Video Demonstration
To learn more about the Pilates Reformer, watch our video below with Samantha for a short demonstration of some basic exercises.
How to Get Started?
Lakeshore
Our Mayfair Lakeshore location has 5 Pilates Reformer machines on site. If you are interested in participating in our Group Reformer Classes please contact Sabine Stojanovich, Fitness Manager via email at sstojanovich@mayfairclubs.com or by phone 416-466-3777 ext 2239.
Thursdays at 10:30am | Amy
Thursdays at 6:00pm | Samantha
Saturdays at 12:30pm | Samantha
West
Our Mayfair West location has 4 Pilates Reformer machines on site. If you are interested in participating in using one of the Reformer Machines please contact Kerry Lloyd, Fitness Manager via email at klloyd@mayfairclubs.com.
About the Author
Samantha Lazzaro has over thirty years of movement experience having danced professionally in Canada and the US. She began Pilates at the age of twelve in conjunction with her ballet training and continued to practice throughout her dance career and beyond. A certified Stott Pilates instructor, Samantha understands proper alignment through movement and looks for precision, coordination and full range of motion with her clients. She is equipped to work with clients tending to injuries, postural imbalances and osteoporosis as well as pre and post natal populations. Her focus is on ease of movement while strengthening and lengthening the muscles leaving her clients feeling warm, lengthened and revitalized.
Samantha works out of our Mayfair Lakeshore location.