What's Stopping You from Getting in the Gym?
Are you a new member at Mayfair Clubs? Or are you a long-time member who has been avoiding the gym?
Many people, just starting out on their fitness journey or after taking a long break, feel a bit overwhelmed about getting back into the gym. It's a completely normal feeling. So don't beat yourself up about it! In fact, according to an Ipsos poll, "Four in 10 Canadians feel intimidated by working out in a gym environment. The main reason cited is that they're afraid other people will watch them (38%) or that they don't know what they're doing (33%) or that they will hurt themselves (7%)."1
Depending on the person, a gym space can potentially be a source of a lot of anxiety and, as a result, can leave them feeling totally demotivated to continue training. There is even a word to sum up this common feeling – "gymtimidation".
Gymtimidation can affect a person's ability to meet their health goals. It might cause them to end a session early, stop attending classes or in the worst case scenario, stop coming to the gym entirely. What all of us forget is that everyone was once a beginner and everyone has to start somewhere.
Having access to the friendly trainers and huge variety of fitness equipment and programming along with the social community found at Mayfair Clubs can help lead you on the path to living a longer, healthier life. And if you get into a consistent habit of hitting the gym regularly, you might even find that you enjoy it.
Fortunately, there are ways to overcome gym intimidation to help you feel more confident at the gym. Here are some tips to help you get started:
1. Dress Comfortably & Don't Compare Yourself
Invest in workout gear that works for you and your body type. You should feel comfortable and confident in your clothing. Wear it and try it out at home before you get to the gym to be sure it works for you. Practice positive self talk and don't worry about what you think others are thinking. Everyone is too busy focusing on themselves to worry about what you are doing at the gym. If negative thoughts come to mind while you're exercising, keep your mind focused on your end goal.
2. Ask for Help
If you're unsure about how to use a piece of equipment or perform an exercise, don't be afraid to ask for help. Contact our Fitness Managers, and ask if someone could show you the basics. You can also consider hiring a personal trainer who can provide you with personalized guidance and support.
We are currently hosting a Personal Training Open House at our Mayfair Lakeshore location. Sign-up for a 20-minute complimentary demo with one of our trainers during the week of May 1st. Sign-up sheets will be in the lobby.

We are also hosting a Personal Training Help Desk at our Mayfair Parkway location during the month of May. Trainers will be available on the gym floor to answer questions Monday to Thursday from 3pm – 7pm. No appointment necessary.

Sign up for a Fitness Assessment. Every new member has access to a complimentary Fitness Assessment. Our one-hour session looks at body posture, strength, & mobility, and includes a discussion of your health and fitness history and future fitness goals. The focus of these sessions is on providing members with an introduction to the facility and educating them on what resources and services are available – all with the objective of helping you reach your fitness goals. Book your assessment via our Mayfair Clubs Member App.
3. Start With Attainable Short Term Goals
Don't go all in at first. Taking the step to walk into the gym is a already a big achievement. Focus on learning one thing or reaching one short term goal at a time and build from there. Did you make it to the gym this week like you had planned? Did you familiarize yourself with one of the weight training machines? Did you set a personal goal for yourself on a cardio machine or check out one of the group fitness classes? If you followed through on any one of those goals – feel good about it. The next time you get to the gym, push yourself to do a little more, add a little more time or resistance to your cardio routine or explore some fun group fitness classes. Work your way up slowly and consistently and celebrate your wins along the way!
4. Bring a Friend & Explore
If you're really nervous about attending one of our Group Fitness classes, get a friend to come with you for support! Members are allowed the option to bring a guest into our facilities by requesting a guest pass at the Front Desk. We offer a wide variety of Group Fitness Classes and we have several classes that are great for first timers. During the month of May, we will be offering a special series of "Learn To" Group Fitness Classes at Mayfair Lakeshore.
This exciting new Group Fitness series is designed to help integrate new members into our Group Fitness classes, and to help existing members better understand class content. Along with a workout, the classes include information on technique, safety, philosophy, and best practices for the particular discipline being taught. Participants will be allowed time to ask questions on proper technique and form and the class will be low/moderate intensity.
May 10th | 6pm | Intro Yoga with Caroline Kroboth
May 17th | 5pm | Intro Group Cycling with Jill Niedoba
May 24 | 6pm | Intro Mixed Cardio (strength, cardio, dance, or mobility) with Al Greene
Register via the Mayfair Member App. See the full group exercise schedule at mayfairclubs.com.
5. Focus on the Benefits
When you're feeling intimidated at the gym, it can be helpful to remind yourself of the benefits of exercise. Regular exercise can improve your physical health, reduce stress and anxiety, and boost your mood. By focusing on these benefits, you can motivate yourself to keep going and overcome your fears.
Mayfair Clubs is a great place to begin your fitness journey. We foster a welcoming environment where all body types & fitness levels are welcome. Remember that everyone starts somewhere so don't compare yourself, ask for help when you need it, set small goals, find a workout buddy, and focus on the benefits of exercise. We hope to see you in the gym this May!
References:
1: Ipsos poll conducted between March 25 and 29, 2016, on behalf of ParticipACTION.
About the Author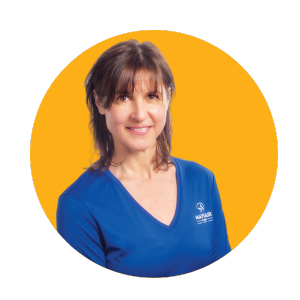 Sabine Stojanovich has been with Mayfair Clubs since 1996, as a Personal Trainer, Fascial Stretch Therapist™, Group Exercise Instructor and presently as the Fitness Manager at Mayfair Lakeshore. Over the past 27 years, Sabine has worked as a health and fitness partner to hundreds of our Mayfair Club members – helping many members reach & exceed their fitness goals.
Get in touch with Sabine via email at sstojanovich@mayfairclubs.com.