Member Spotlight: Jacob Marrison
Mayfair Member Spotlight
Our Mayfair Member for the month of May is Jacob Marrison from Mayfair Parkway's Squash Program!
Why Jacob?
Jacob Marrison is a high level Junior Squash Player who trains at Mayfair Parkway. Jacob first picked up a racquet at the age of 5, but really began playing squash when he turned 7. He first began the game because his father and brother both played. Ever since he stepped on court he loved the game and you can tell whenever you see him play. At the age of 12, Jacob has already won 4 Provincial Open Championships, has back to back 4th place finishes at the Canadian Junior Championships (2018 and 2019), and finished 13th at the British Junior Open (which only the top players from each country can compete in, making it the top event for his age!). In other words Jacob is the 13th best player in the world under 13 years old. Jacob is not only a great player but also a great sportman, and recently won the William Bannerman Spirit of the Game (sportsmanship U13) at the Ontario Open in March.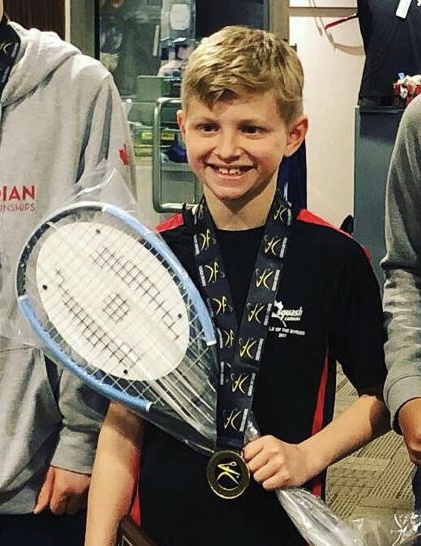 More About Jacob
We asked Jacob the following questions…
What do you love about squash?
Jacob: I love the competitiveness of the sport and all the friendships I have made all over the world.
Who is your favourite squash player and why?
Jacob: My favourite squash player is Ramy Ashour because of all the filthy nicks he hits.
What do you like to do when you are not playing squash?
Jacob: When I am not playing squash I like to play Fortnite with Coach Cole Osborne, watch Netflix and chilling with my family.
What is your goal in squash?
Jacob: To win a National Championship
What Coach Cole Osborne thinks about Jacob:
Cole: Jacob is a hard worker, great listener and a fabulous sportsman with a great personality. I am looking forward to watching Jacob grow as a player and seeing how long I will be able to keep out of his reach, although I know it is coming faster then I'd like.