Expert Corner: Michael Sablotny on Personal Training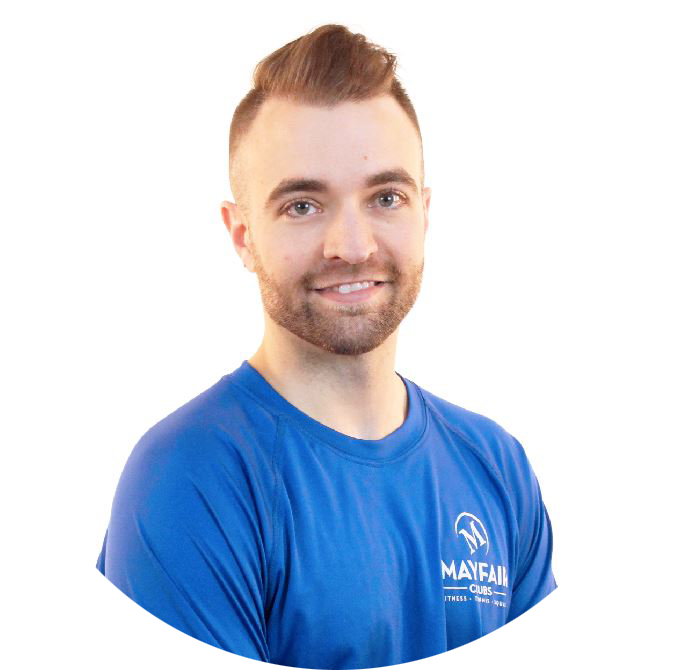 Meet Michael
Michael Sablotny is the Fitness Manager of Mayfair Clubs Parkway. He brings with him 10 years of fitness industry experience, both as a Personal Trainer and as a Fitness Manager. As an accomplished Personal Trainer, Michael has an extensive educational background and shares that knowledge with others as a National Instructor for CANFITPRO. Michael holds numerous training, movement and nutrition certifications including Functional Mobility, Olympic Weightlifting, Fascial Stretch & Mobility, Precision Nutrition, TRX and Strength & Conditioning Coaching.
Michael on Personal Training
What is a Personal Trainer?
A personal trainer is a fitness professional who will design and implement your workout program in a one on one coaching environment. They will teach you how to exercise safely and effectively while motivating and supporting you to achieve your fitness goals.
What are the benefits and why should people work with a Personal Trainer?
Accountability, expertise and support are the top three reasons people choose to work with a personal trainer. Like anything, exercising regularly and effectively is a skill that needs to be learned. Working with a trainer will help you stick to your program while being confident that you are being as effective as possible with your time.
Is it good for people of all fitness levels? What if I am a beginner?
Personal training is great for people of all fitness levels, especially beginners. A personal trainer will be able to select the correct exercises for your unique goals and limitations and teach you how to perform exercises safely and effectively. Our trainers work with absolute beginners all the way up to high performance athletes. Just like anything, if you want to get the best performance out of yourself, work with a coach who can tailor your experience to your level!
What is a typical session like?
Personal training sessions are one hour long. The session will typically begin with a warm-up that is designed to stretch tight areas of the body before exercise. There will be 45-50 minutes of exercises that will be tailored to your personal fitness goals and current fitness level.
How long will it take before I see results?
Different aspects of fitness develop at different speeds. The most immediate aspect of fitness to improve will be your cardiovascular fitness and energy levels. You can expect to see changes in your cardiovascular fitness and energy levels within the first month of exercise! For people new to exercise, strength will develop very rapidly, so you can expect to see differences in your first two months. Muscle building is very slow. For men they can expect to gain 8-12lbs of muscle in 1 year, women can expect 6-10lbs in one year. The rate of fat loss will also depend on diet, not just exercise alone but with moderate changes to diet, you can expect to lose about 1lb of body fat per week.
I want to lose weight, can a Personal Trainer help me with that?
Weight loss is something all personal trainers specialize in! Weight loss is the most common goal our trainers help their clients achieve and personal training is the most effective way to get results! Personal trainers will help you focus on long term, sustainable lifestyle changes that will lead to weight loss for the long term!
What is the difference between cardio and weights?
Cardio training focuses on strengthening your heart and lungs. Weight training focuses on strengthening muscles, bones and joints. Both are very important for overall health and fitness.
Personal Training at Mayfair
Personal Training at Mayfair Clubs is highly customized. Our certified Personal Trainers are here to help you identify the fitness goals and objectives that are right for you and your total body health. Starting with a complimentary in-depth Athletic Analysis, our Personal Trainers will design a personalized fitness program, customized, just for you. Once we've established your program, we will match you with a Personal Trainer who is compatible with your preferences. They will be your partner, champion, and coach throughout your whole body health transformation.
How do I sign up?
Of course you'll see Michael on the gym floor, but he can also be reached at parkwayfitness@mayfairclubs.com or at 905.475.0350 ext. 3252.