Miss World Canada, Fitness Day at Mayfair
Tuesday the 18th of July 2017 was the hottest, brightest day in what has so far been a pretty moist summer. But this day was special at Mayfair Clubs Lakeshore for other reasons. On this historic day we welcomed 57 competitors, aged 19 to 25, from the 2017 Search for Miss World Canada Competition.
We hosted 'Fitness Day' and on that Tuesday morning three of our own fitness instructors led by Daryl Jinks, (the Personal Training Manager at the Lakeshore) were the true stars of the show. They designed a three-exercise fitness test to challenge the contestants on their stamina and strength.

2017 Search for Miss World Canada Chose Mayfair Clubs
To comply with the terms of their international license agreement, as set down by the UK governing body, each 'World' licensed beauty pageant must test the fitness of all entrants and add those values to the scoring formula. The governance stops short of spelling out exactly what the exercises must be however, and so the pageant's Canadian administrators asked Mayfair Clubs personal Trainers to devise an easy-to-execute standardized testing regime.
Mayfair Clubs' 2017 Search for Miss World Canada Fitness Day Test comprised three exercises,
Max Pushup Test
Weight assisted pullup test
Sled push for 40 yards measured over time
These three fitness tests were very physically strenuous, and were designed to test the assembly and find the best athletes without doing a lot of complicated math (i.e. calculating respiratory fitness by dividing body mass against heart-rate etc) as there just wasn't enough time or personnel to do that measurement, nor was it entirely necessary. These ladies are not applying to be astronauts! We had three hours to make a list and rank (privately) all fifty-seven competitors.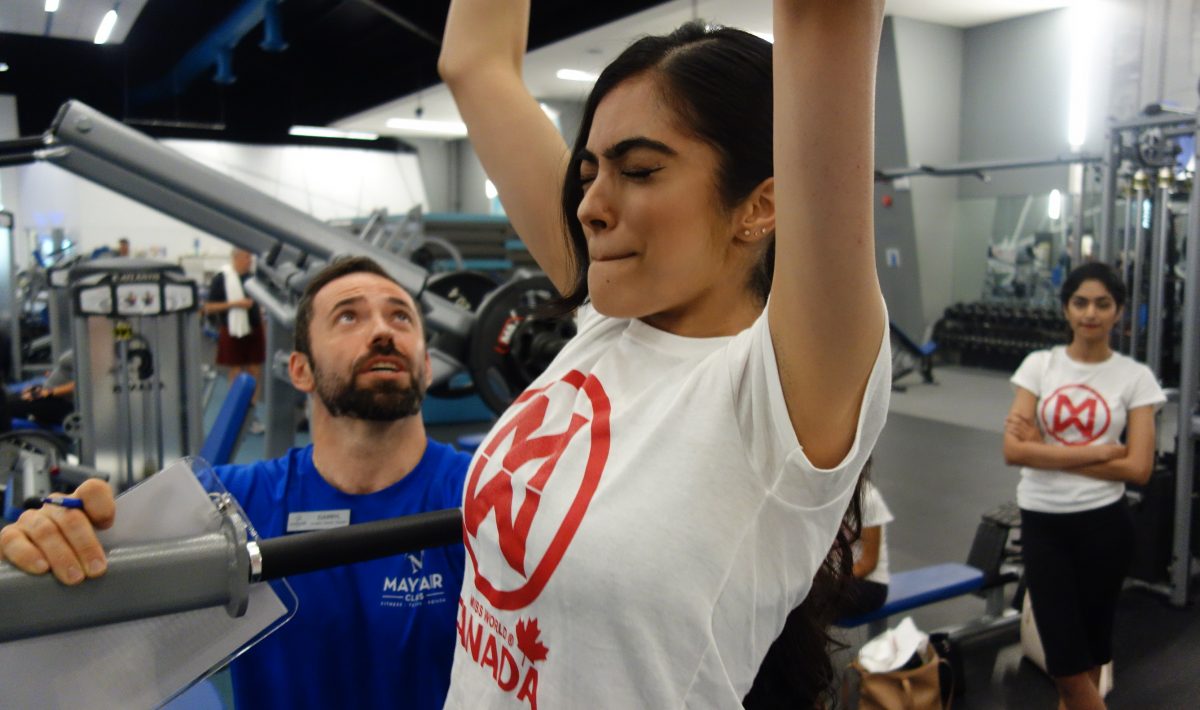 Although each of these young woman are, strictly speaking in direct competition with one another, they are also becoming best friends. Each delegate is vying for the 2017 Miss World Canada title, and the opportunity to represent the nation in The World competition later this year. The decision will be made by a panel of notable judges at the end of the week, in the Grande Finale on Saturday July 22nd in the 1,232-seat John W. H. Bassett Theatre in the Toronto Metro Convention Center. And although the young women are all competitors, they were cheering each other on and encouraging each delegate to do her level best at each of the stations.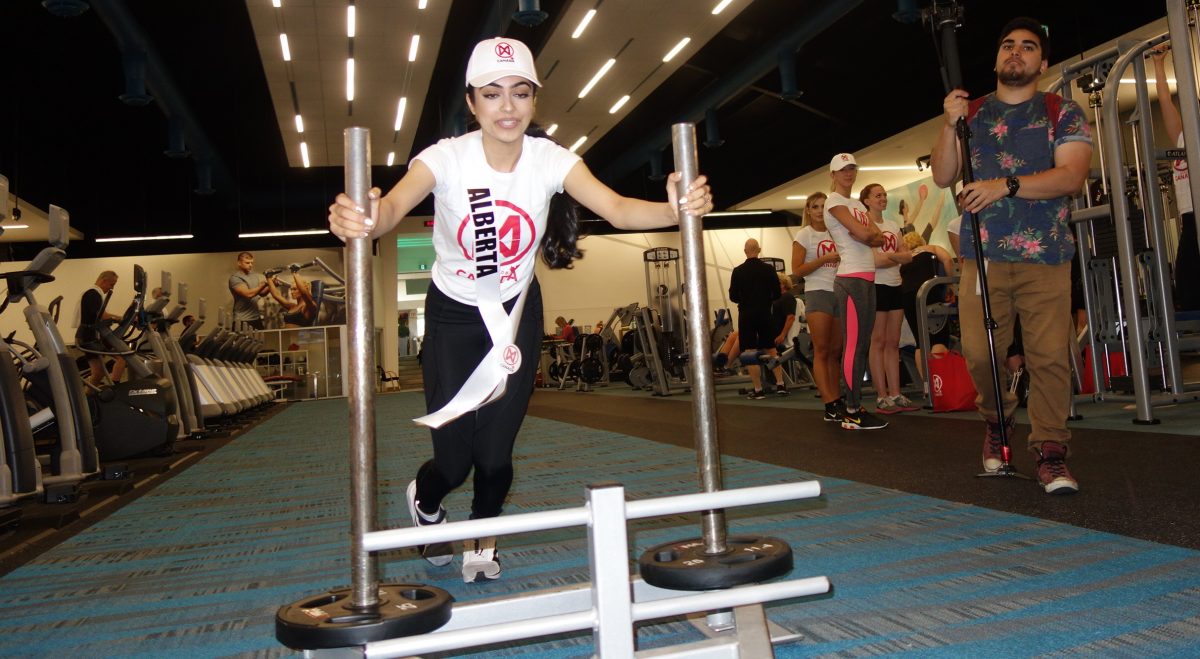 Last-Minute Decision NOT To Include Burpee Test
There was some talk of adding a 'burpee test' to the mix, but this was rejected as being too physically stressful. A 'burpee' is defined as going from upright to a squat or push-up position and back upright again. The test measures the # of times an athlete can do that in thirty seconds. In hindsight, everyone is probably relieved we didn't do this, as there were more than a few young ladies who needed a few minutes recovery time from the less-intense exercises that were selected.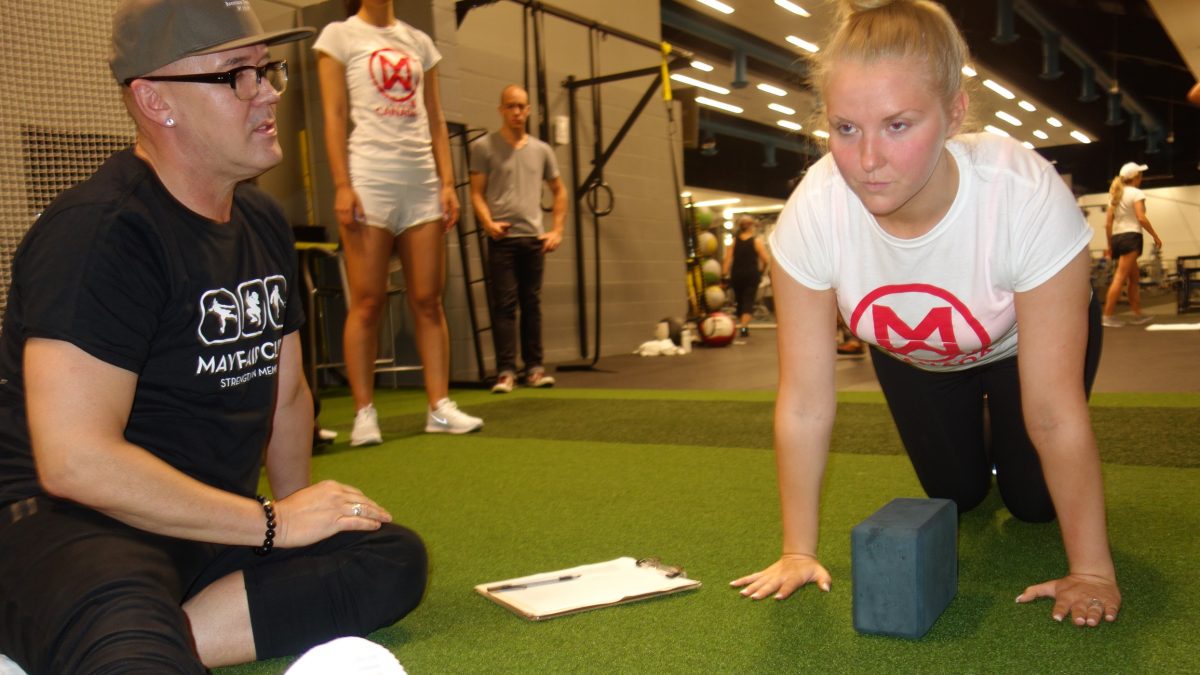 Three Exercises Pushed The Ladies to Their Limits
Max Pushup Test: This activity was just as it sounds; led by Kerry on the green AstroTurf of the golf 'driving range' the test measures the maximum amount of push-ups each young lady could perform continuously in an unlimited amount of time. Michaela, the overall Fitness Day winner (2017 Miss Nanaimo Canada World) impressed Kerry by doing full pushups and not the half pushups the other ladies were doing!
Weight assisted pull-up test: At one of the exercise machines in the main gym, Daryl himself helped each of the contestants pull themselves up and down and then recorded how many times they could do it. The record was sixty two continuous pulls ups.
Sled push for 40 yards, measured over time was probably the most dynamic activity in the mix and made for some great pictures. Participants had to turn the sled around at the twenty yard mark and push it all the way back again to make forty yards total. Cornering at the end was the secret to getting a good time – the cleverest contestants kept up their momentum in the headland while the less sophisticated athletes stopped to redirect their force in a more clumsy and time consuming manner. So this is one event where strategy played a role and its therefore perfect the competition. Plus the facial expressions on the ladies pushing the weight sled are priceless!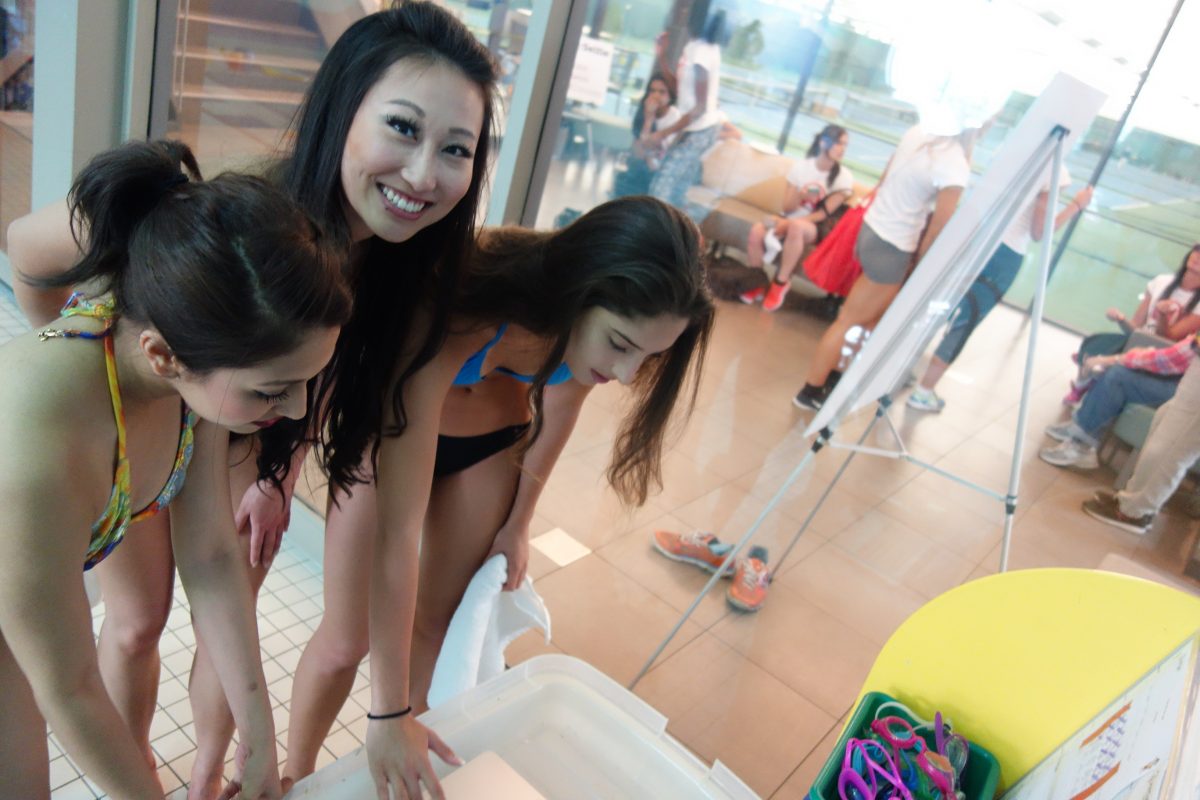 Instagram #SaltwaterSelfie Challenge Happened in Mayfair Club Saltwater Swimming Pool
In the far corner of the saltwater swimming pool at Mayfair Clubs Lakeshore, in the oval shaft of sunlight created by the circular window, KPDI Digital Strategy Agency crafted a unique digital solution with the help Toronto cameraman David Suddaby who donated a HERO 5 GoPro on a magic arm mount which we affixed to a chrome swimming pool ladder. Raymi, our agency point person tracked each entrant; she recorded their online addresses and wrote their names, one by one, on a white plastic slate.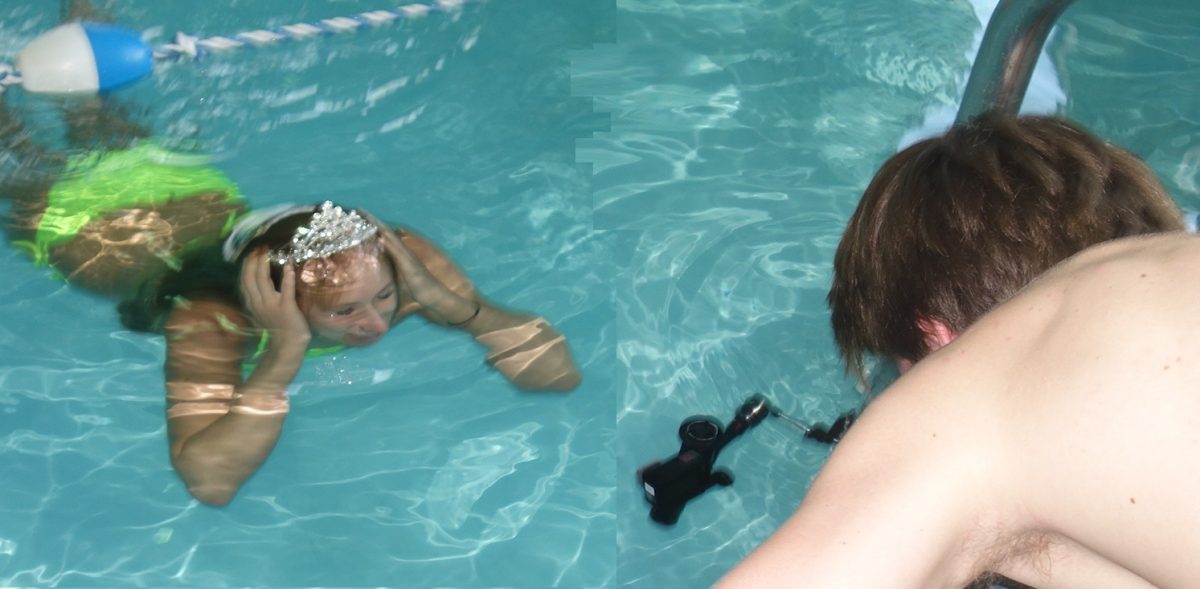 One by one each delegate was invited to swim into the spotlight and pose for a #SaltwaterSelfie. The video on the camera was cut by Alec Glover and sent out individually afterwards; it took him hours to accomplish this task and so we mention it here. Thank you Alec. Finally, each delegate was further induced to publish on Instagram, thanks to a generous donation of microfiber Snappy Towels.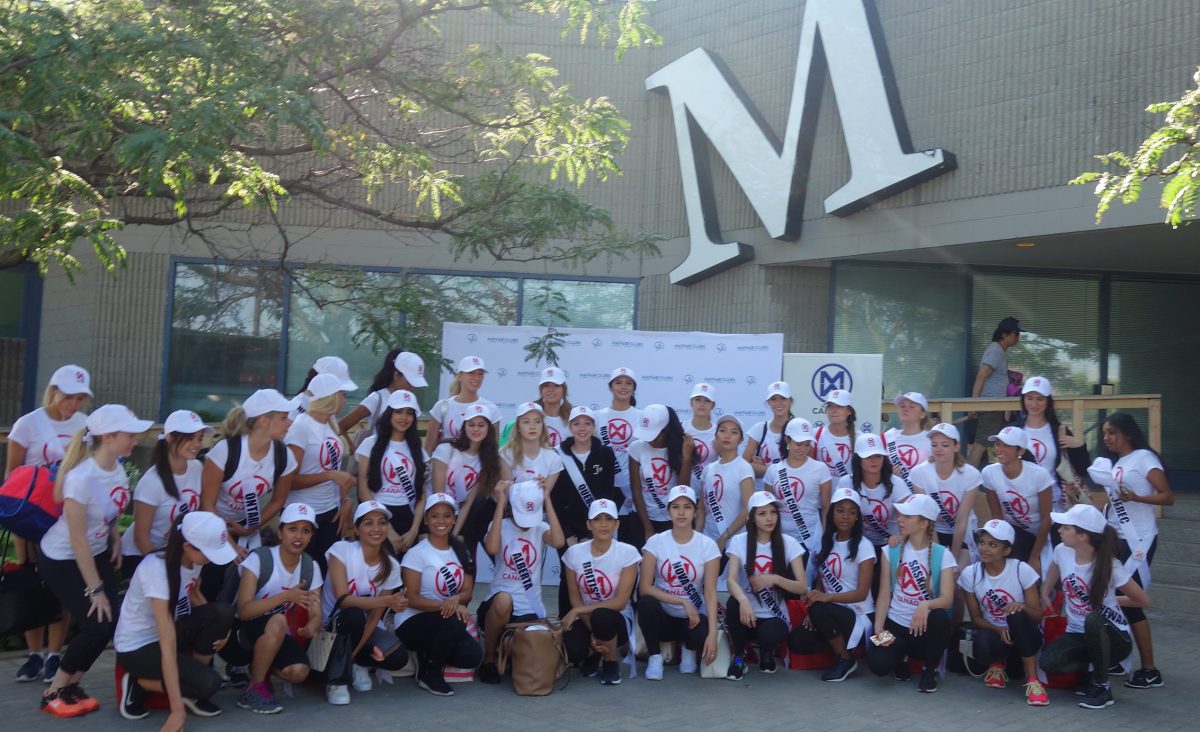 Five delegates won this high tech towel prize, perfect for the beach or around the home, in their choice of five colours. You can see their media here, as ranked by order of the Judges' appreciation.
The 2017 #SaltwaterSelfie Videos at Mayfair Clubs
Miss GTA World 2017
Miss Windsor World 2017
Miss Labrador and Newfoundland World 2017
Miss Woodlands (Alberta) World 2017
Snappy Towels are amazingly useful microfiber towels with twelve handy stainless-steel snaps. Microfiber means they are dense sponges that are excellent moisture grabbers and simply amazing at drying human hair and skin. The snaps allow the towel to be worn as a cape, or as a sarong, or folded up in a certain way to resemble a backpack or satchel.

Earlier in the 2017 Search for Miss World Canada, the Snappy Towels company donated dozens of blue beach balls, one for each delegate, and one of these balls made it to our club's swimming pool that day. Anyone who has visited Mayfair Clubs Lakeshore lately may recall seeing it there.
Healthy Lunch at the Bistro

When the fifty-seven delegates first arrived, they were quickly shepherded into the specially sectioned-off Bistro area which then became a holding area for the rest of the day. This is where the delegates stashed their gear when they changed their clothes for the pool, and this is where they all ate lunch.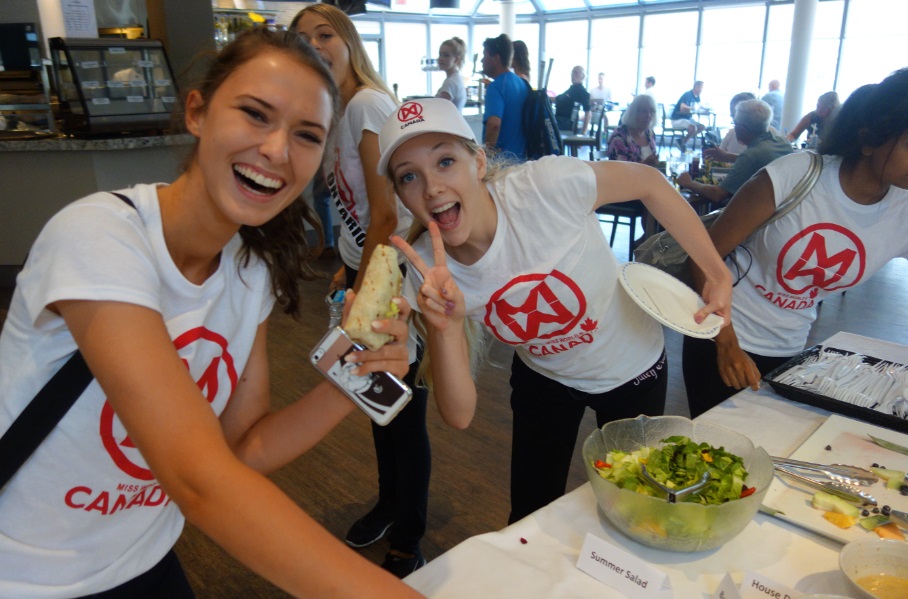 We provided a delicious buffet with an eye on accommodating all appetites and any dietary restrictions including food allergies and vegetarian preferences; the kitchen staff made over a hundred pita wraps in every possible flavour and composition, served fresh with melons and other fruits and vegetables plus a rich garden salad.
And then it was over. The delegates left the facility at one o'clock and the signs and banners were packed away – our place was quiet again. Only the Snappy Towels beach ball in the pool area remains.
Save
Save
Save
Save
Save
Save
Save
Save
Save